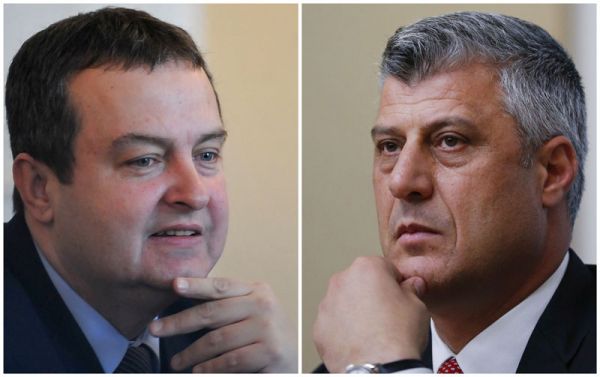 By Milos Mitrovic – Belgrade
A new improved deal had been offered to Belgrade during negotiations on normalizing its relations with Pristina, diplomatic sources revealed for Serbian media in Brussels on Wednesday evening. Allegedly, four Serbian municipalities in Northern Kosovo would have jurisdiction to elect local commanders. The offer also included County Court that is supposed to be established in Kosovska Mitrovica, mostly populated by Serbs, Serbian Broadcasting Corporation (RTS) reported.
Around 8 p.m, the negotiations had temporarily been interrupted, after Serbian Deputy PM Aleksandar Vucic and Kosovo Prime Minister Hashim Tachi argued about certain parts of the proposed deal. Serbia should replay to the offer in the next couple of days, diplomatic sources revealed. Serbian negotiating team, with PM Ivica Dacic on its helm, should inform all political parties represented in the Parliament about Brussels offer.
The most of Serbian demands had been fulfilled by the fresh proposal, RTS reported. This practically means that the police in the Northern Kosovo would be under the control of four Serbian municipalities. The police would be consisted of Serbs, which are representing 98 percent of Northern Kosovo population. NATO should guarantee the implementation of the deal, and Serbian officials are expecting a meeting with NATO Secretary General Anders Fog Rasmusen in this regard. Belgrade demands that prospective Kosovo military forces should not be present in the Northern Kosovo.
Some parts of educational and health care systems in Northern Kosovo should be under the jurisdiction of Serbian municipalities, as well as domains of spatial planning and economic development.
The fresh deal implies that Serbian municipalities should propose its police commanders. The Central Government in Pristina would have to accept one among three candidates proposed for each municipality, Television B92 reported.
There has been a possibility that Serbia would accept agreement proposed by EU High Commissioner Catherine Ashton, Kosovo Minister for European Integrations Vlora Citaku suggested earlier.
Serbian president Tomislav Nikolic had "permanently been informed" about Wednesday's negotiations. "The independence of Kosovo does not exist without Serbian consent, and this is our trump to persuade Pristina to accept reasonable and normal solution", Nikolic stated on Tuesday.
"The beginning of the negotiations of Serbian accession to EU, which is closely related to normalization of relations with Pristina, is very important. However, Serbia cannot confute itself for this aim", Nikolic said.