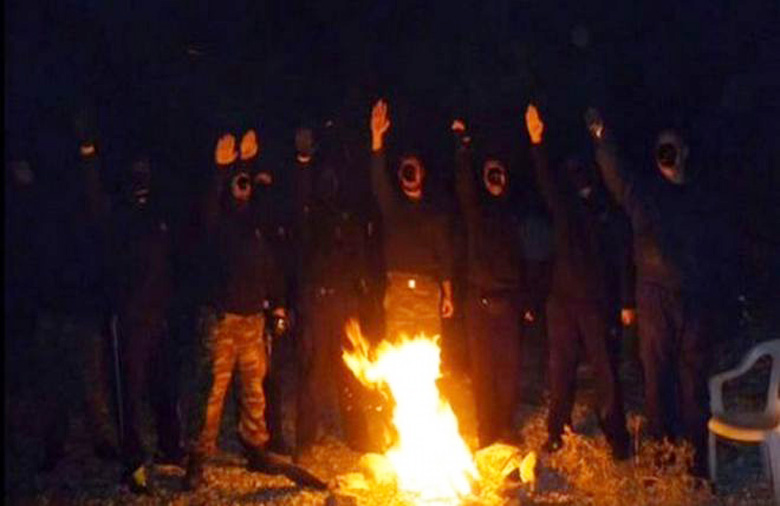 By Christos T. Panagopoulos –
It was all in the Internet and especially in YouTube and the Greek government preferred silence over repressive action. It was common knowledge what the neo-nazi party of the Golden Dawn has been doing for the last two years, preparing raid battalions and strike teams, which were trained by either former or active military officers of the Special Forces.
One by one, former members of the Golden Dawn have started for the last few days revealing facts and elements concerning the activities conducted by the party, which, apart from the Nazi salutes, it also included nightly survival, lethal combat training and techniques of unorthodox warfare, almost identical to that of the Special Forces.
In the video below, members of Golden Dawn's local branch in Nicaea, are shown receiving military training, wearing commando uniforms and full-face caps. The video finishes wtih the phrase "The day will come".
Watch the video:
"We have a full military structure"
But the most horrifying testimony, apart from the video, comes from a former member of the Golden Dawn, who broke his silence and talked to the weekly newspaper "To Vima".
"We have a full military structure", he confesses, adding that there were 3,000 people "ready for everything as well as 50 large armed phalanxes ready for road clashes. We also have as much as many six-membered squads,  commandos who organize targeted hits, following a central guidance from three people in the organization. These squads conduct special attacks against immigrants and retaliatory blows against enemies of the organization", he adds.
And he goes on: "Our training is not just what people know. We take special training even with weapons in areas of Rafina, Parnitha, Fyli, Porto Germeno, Mani, in central Evia and elsewhere. Our main concern is to give a good hiding to some weapons, even in hooligan clubs or apartments, in order for them not be easily detected by the Police or to be affiliated with us".
The witness referred also to Nicaea's local branch of the Golden, which, as he confesses got involved in the assault in Keratsini, which concluded in the murder of Pavlos Fyssas by the 45-year-old, G. Roupakias. "The branch of Nicaea has at least four phalanxes, each one consisting of a total of 250 individuals and has been for the last months the most active in the Attica region. It was them who had the general command along with the Athenian branch during the recent events in Meligalas and elsewhere…", he said.
Sources: To Vima, TVXS, iefimerida
You may also read: