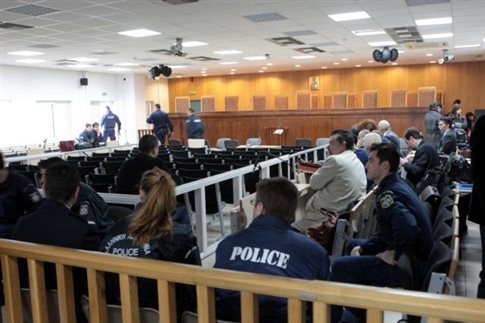 Athens, April 21, 2015/ Independent Balkan News Agency
By Zacharias Petrou
Members of Greece's neo-Nazi party "Golden Dawn" appeared in court Monday on the first day of a historic trial in Athens.
All 18 of Golden Dawn's MPs in the previous Greek parliament are among the defendants. A total of 68 people will be tried, including the party's lawmakers as well as supporters and police officers.
However, the session began at a top security prison in Athens, without some of the key defendants present, and was adjourned until 7 May.
Leader Nikos Michaloliakos who was released recently from prison, is being kept under house arrest and was not in court in an attempt to play down the significance of the trial and avoid having his picture taken in court. A self-professed supporter of Golden Dawn, Giorgos Roupakias, who has admitted to killing Mr. Fyssas, was in court on Monday.
Most of the defendants are charged with membership in a criminal organization, with others accused of murder, racist violence and weapons possession. They face long prison terms if convicted. The trial, taking place at the Korydallos maximum security prison in Athens, is set to last for at least one year and involve 300 witnesses and 120 lawyers.
"This is an important trial for Greece and democracy," said the Athens mayor, Giorgos Kamininis, outside the courthouse, which was filled with victims and the relatives of victims of attacks allegedly carried out by Golden Dawn.
"They are not on trial for their ideas but because of their criminal activities which undermine the institution of democracy and for a host of racist attacks against migrants," he added.
Following the fatal stabbing of Pavlos Fyssas, a Greek anti-fascist rapper, by a Golden Dawn member in 2013, the party's leadership was jailed in 2013 pending trial for allegedly running a criminal organization.
Golden Dawn won 17 seats in elections in January even as the party's leadership awaited trial in prison. It remains Greece's third most popular party, after ruling Syriza.
Three friends of Pavlos Fyssas' were assaulted on their way to court by men believed to be supporters of Golden Dawn, prosecution lawyers told reporters on the sidelines of the trial. Two of the men went to the hospital with what were believed to be minor injuries.