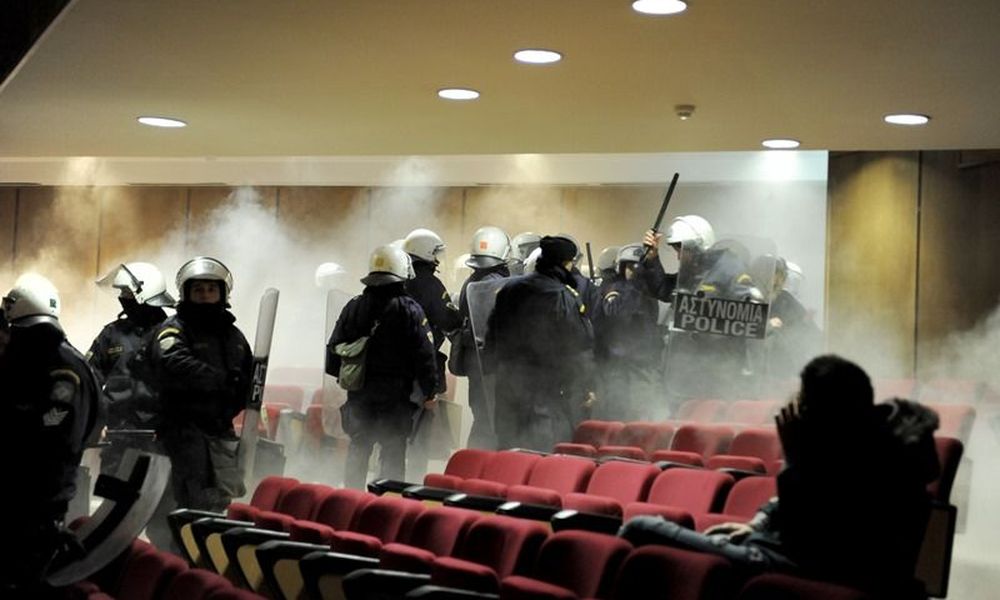 Golden Dawn's trial continued on Tuesday amidst tensions and violent scuffles.
The beginning of the examination of the new case file was the reason that dozens of anti-fascists and members of anti-authoritarian organisations gathered at the Court of Appeals in Athens. However, according to reports, the police guarding the area did not allow many of them to enter the courtroom though – as they say – there were empty seats. Instead, sources say that on the part of Golden Dawn there was no such issue and they were allowed entry by the police.
Some time later, the first witness was called to the stand where he requested that entry to his comrades be allowed. The Golden Dawn side started shouting slogans like "blood, honour, Golden Dawn" and "fa?%got sons of anarchists" while throwing objects; the reaction of the solidarity movement was instant.
As was expected the court adjourned the proceedings for the situation to calm down as there was a threat of conflict in the hall, with police officers coming between the two sides.
The trial will continue on February 16.
The parties reacted with announcements to the unprecedented incidents in the courtroom.
"Today's events during the trial of the neo-Nazi organization, prove, once again, that Golden Dawn fears and despises justice.
The times of immunity and tolerance to their crimes are over. As many threats it launches and as many insults to the victims and their relatives it utters, the neo-Nazi group can be sure that the moment of accountability has arrived", SYRIZA states in an announcement.
New Democracy also issued an announcement for the incident in the courts:
"Today's unprecedented events in the courtroom – which we condemn in the strongest possible way – reveal the hideous face of the aggressors: Golden Dawn and the self-proclaimed anti-authoritarians.
They highlight, however, the enormous responsibilities of the Government, which – spineless and impotent – is unable to ensure order, even in the Temple of Themis. We repeat that priority for the new government of New Democracy will be to respect law and order everywhere. "
The Potami Party, said: "The masks of the neo-Nazis have fallen. With their unprecedented challenges they demonstrate how allergic they are in the functioning of democratic institutions. Their unprecedented behaviour, not even respecting the courtroom where they are on trial, causes only shame.
Shame and sorrow that some Greek citizens unfortunately sent this party to Parliament. There is no longer any excuse for them either. It is with these people that the SYRIZANELgovernment wants to have communication channels with? Do they, believe in truth, that they can change? "./ΙΒΝΑ