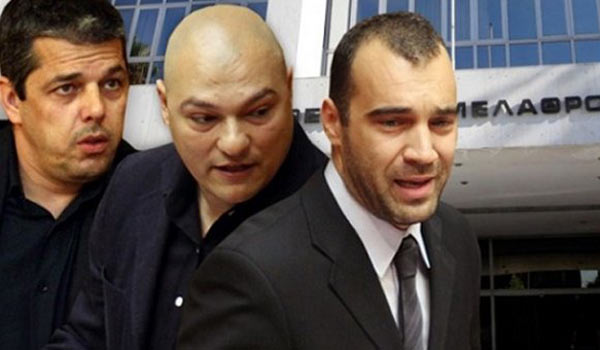 By Lefteris Yallouros – Athens
Three MPs of Greece's neo-Nazi party "Golden Dawn" were remanded in custody on Saturday pending trial on charges of belonging to a criminal group.
Stathis Boukouras, Yorgos Germenis and Panagiotis Iliopoulos face serious charges in connection with a series of attacks, including the murder of anti-racism activist Pavlos Fyssas.
All three denied charges against them in a marathon plea session. A trial date has not yet been set.
Nine of Golden Dawn's 18 lawmakers have been charged with participating or leading a criminal group. Last September, Golden Dawn leader Nikos Michaloliakos along with MPs Christos Pappas and Yannis Lagos were also arrested on charges of forming a criminal organization.
The party attacked the government for imprisoning its members while "terrorists and crooked politicians" involved in scandals are free. Golden Dawn spokesman and deputy Ilias Kasidiaris said "we hope that Greek justice will prevail despite the illegal political pressures it is under."
On Friday, the party announced that it planned to challenge the imprisonment of its leader and parliamentarians, which it described as "illegal and unconstitutional," at the European Court of Human Rights.
Despite evidence that party members and MPs have taken part in serious criminal acts, the party has maintained support in recent polls. The party remains third most popular behind New Democracy and SYRIZA nationwide.
With local and European Parliament elections due in May this year, support for the neo-Nazi party is a real "headache" for the Greek government as its hate rhetoric and attacks on the mainstream political parties have found support amongst a part of the country's population.
The main problem for the government is the cries of Golden Dawn that their members are victims of political persecution being believed by voters. Greece's ongoing debt crisis, financial cutbacks, high unemployment and corruption are all issues that have boosted Golden Dawn in polls, despite Nazi memorabilia, including flags, helmets with swastikas and portraits of Adolph Hitler found in the homes of arrested members.
Attacks on immigrants by gangs of Golden Dawn supporters and the party's role in the killing of Pavlos Fyssas have indeed caused outrage and protests amongst the majority of Greeks. However, efforts to clamp down on the party have not been met with approval by a large part of society, maintaining fears of political instability in the country.