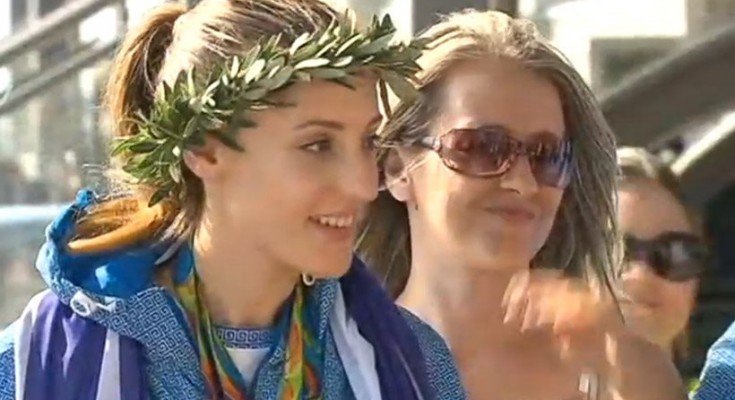 Athens, August 11, 2016/ Independent Balkan News Agency
Olympic champion Anna Korakaki, who won gold and bronze in the 25-meter pistol and 10-meter air pistol in Rio respectively, thus becoming the first Greek athlete in more than a century to win two medals in the same Olympics, received a hero's welcome as she landed in Athens on Thursday.
Dozens of fans holding Greek flags cheered her on while a red carpet had been rolled outside her plane to walk on.
"I'm very happy to be the first Greek athlete with two medals in the Olympic Games and I hope I won't be the last. I want to give an incentive to children to get involved with the sports and those who are athletes already, to aim even higher," Korakaki told journalists.
"I worked very hard to win these two medals. I couldn't be happier. I wanted a medal, but my dream was fulfilled twice," she said. "My goal is to make shooting more known, because unfortunately in recent years the number of athletes is dwindling."
The Olympic champion commented in passing about the difficulties she faced while training, saying that even if she hadn't won these medals, she would still have opened up about them in detail.
On his side, her father and coach, Tasos Korakakis acknowledged the pressure the athlete was under lately and the tough training and said they returned to Greece to rest.
Interior Minister Panagiotis Kouroumblis, who welcomed Korakaki at the airport on behalf of the government, described it as one of his most emotional moments of his life. "Hope came from this kid's efforts who, under difficult circumstances, armed with determination and perseverance, made her dream a reality. She's an example for all of us," he said, adding that the state now has to make good on promises to support athletes competing in her sport.
The Greek champion arrived with a two-hour delay to Athens, as Italian authorities in her transit flight to Rome conducted extensive security checks due to the guns she was carrying with her from Rio.
Source: AMNA