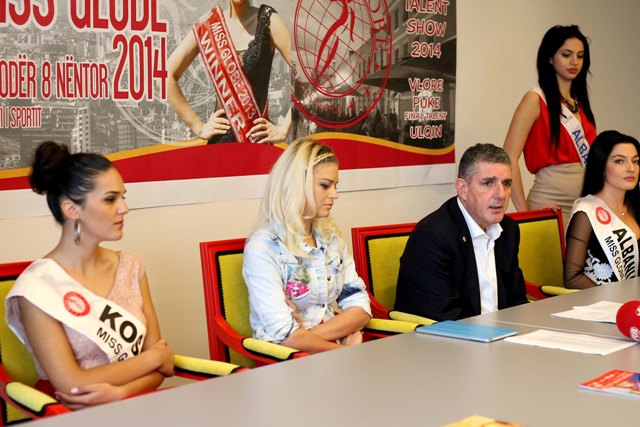 Miss Serbia 2014 withdraws from the world beauty contest
Tirana, October 23, 2014/Independent Balkan News Agency
The 11th edition of the beauty contest "Miss Globe" will be held today in the north of Albania. The organizers say that this will be the last time that this contest is held in Albania, after 11 editions in a row.
After the events in the match between Serbia and Albania in Belgrade, political comments and polemics, the Serb contender withdrew from the race. "I'm sorry about this,-said producer Petri Bozo,-because all the Serb girls who have participated in Miss Globe in past editions, have left with the best impressions from Albania and have expressed their desire to come back. But, this was their decision".
Shkoder receives beauties from five continents
As of today, 44 girls from different countries of the world and five continents, start their tourist tour in Albania. The map of this year's travels will include Tirana, Vlora with its history, a trip by ship to the Bay of Karaburun, Llogara, a safari trip in the Pilur Mount, to Radhima and then the group will head to the north of Albania, to stop in the town of Puka.
After Puka, this year contenders will visit Ulcinj and Island of Ada in Montenegro. They will then come back to Albania, in order to stop in the city of Shkoder, where the big finale will be organized on the evening of November 8, 2014.
This is the last year in Albania
"This is the last year that Miss Globe is held in Albania", said Petri Bozo in the first news conference, which included Miss Albania 2014, Anisa Petrela, Kosovo's representative, Almira Llolluni and this year's presenter, Orinda Huta.
"We're not in Shkoder by chance. We will end it here, because I feel that I'm in debt toward this center of history and culture of the Albanian north. The last time we were in Shkoder, it was many years ago with the contest Miss Albania", said Bozo.
Bozo said that during these 11 years that Miss Globe has been held in Albania, "Deliart Association" has met its engagement of organizing this event here. "The mission of this world event held in Albania has been met, by realizing what it aimed: the promotion of Albania in the world, the presentation of our culture and history and turning this beauty contest into a promoter of the best Albanian values. We have done this during these 11 years with hundreds of beauties, representatives of their countries in Albania, who have been our ambassadors in the world. I feel this when I go as jury member in other international events. We fulfilled our mission, although in most cases, we haven't had financial support from the state".
Producer Petri Bozo and "Deliart Association, after the contract signed years ago with the holder of the patent, the wife of the founder Charlie See, Anne See, will continue to be the exclusive organizer of "Miss Globe". /ibna/