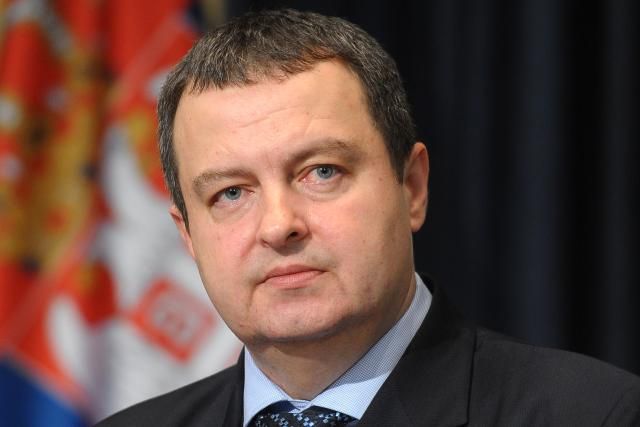 By Milos Mitrovic – Belgrade
There have been no new pressures on Serbia to support sanctions against Russia amid the crash of the Malaysian airplane in Ukraine, Foreign Minister Ivica Dacic said today. "Serbia defends the territorial integrity of Ukraine, but it cannot defend it stronger than its own", Dacic underlined.
Earlier this week US ambassador in Serbia Michael Kirby said that Serbia respects the territorial integrity of all internationally recognized countries, but that Serbian officials have never said that Ukraine in whole of its territory was included by such approach. After Prime Minister Aleksandar Vucic reacted by saying that he has supported the territorial integrity of Ukraine "several dozen times" recalling his recent interviews and statements, Kirby apologized for the "mistake".
However, there have been comments that Kirby was not clear enough, thus leaving the room for speculations whether Serbia would be exposed to further pressures regarding its policy towards Ukraine and Russia. Serbia does support Ukraine's territorial integrity, including over Crimea as Vucic has emphasized, but it refrains from imposing sanctions to Moscow, unlike to European Union countries.
Dacic recalled that European Union has required from Serbia even earlier to gradually harmonize it's foreign and defense policy with EU's on the grounds of the country's accession negotiations with European club. "All this years we had the upward trend in this regard", Dacic said adding that "the level of harmonizing" in 2013 was 90 percents, but it fell in first three months of 2014 due to "technical mandate" of the government which has been in force after calling April early elections.
"After I have taken Foreign Ministry, Serbia joined EU's decisions in 10 cases, and in four cases it did not. All this four issues were about Ukraine" Dacic said specifying that sanctions on Russia have been the problem, not "Ukraine itself."
Dacic said that Serbia would continue to harmonize its foreign policy with the EU. However, he added, country will follow its "national and state interests" at the same time. "Nobody has the right to give us lessons on territorial integrity", Dacic said alluding to countries which had supported and recognized the unilaterally-proclaimed independence of Serbian Autonomous Province Kosovo and Metohija.
"We have also expected that all United Nations members would express their position over our territorial integrity. In this regard I want to say that our national and state interest is to develop good relations with Russia, China and other countries", Serbian Foreign Minister underlined.
He added that South Stream gas pipeline constructing is also in the interest of Serbia. "Annually, Serbia will earn up to 500 million Euros from the transit of the gas, not to mention companies (profit) that will participate in the constructing".