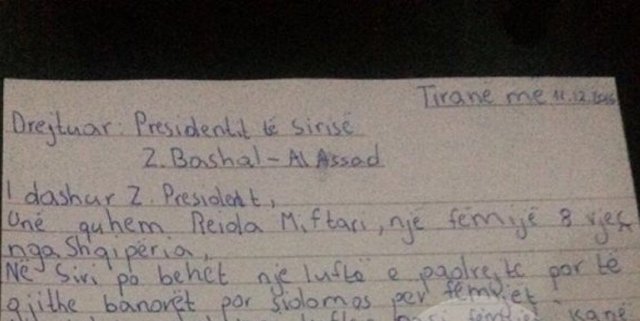 She's only eight, but her feelings about what is happening in Syria are very strong. She's living the bloodshed taking place in Syria very badly and she wrote to the Syrian President to end this serious situation which has befallen to the people of this country.
Reida Miftari, an eight year old girl who lives at "Myslym Keta" st. in Tirana, has written this letter for the Syrian President, Bashar al-Assad. Renda says that an unfair war is taking place in Syria and that this war is unfair for everyone, especially for the children.
This is the full letter:
"Tirana on 11.12.2016
For the attention of the President of Syria, Bashar al-Assad
Dear Mr. President
My name is Reida Miftari and I am an 8 year old child from Albania.
An unfair war is taking place in Syria and this war is unfair for all the people there, especially for children. Please stop the war, as children have the right to live in peace.
They have the right to go to school, feed, entertain, have medical care, live near their family, play and not be mistreated.
Mr. President, please stop the war, in order for people not to die, but live freely. Don't destroy their lives", ends the letter written by Reida Miftari.
It is now known if the letter has reached the Syrian President and if he will reply or if he will reflect on Reida's demands.
A while ago, another child from Albania sent a letter to the US president, Barack Obama. The letter followed a meeting between him, his parents and the US President in the White House. /balkaneu.com/