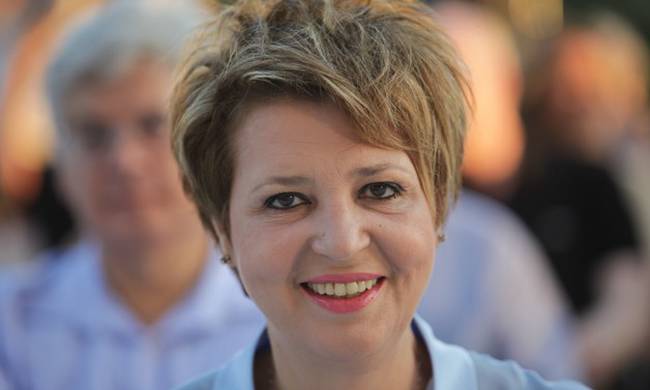 Athens, September 1, 2015/ Independent Balkan News Agency
By Spiros Sideris
"For a strong mandate to the government of SYRIZA, in order to take the country out of the dire situation that the policies of the last 40 years has brought it", asked the spokeswoman of SYRIZA Olga Gerovasilis, in an interview at the National radio station.
Gerovasilis stressed that "the Greek people knows that only the government of SYRIZA negotiated and will continue to do so", to note that "we will not cooperate with ND, because we are different ideologically, politically", adding that "we do not carry the same weights. We have other goals".
Moreover, she said that the prime minister, and the negotiating team, were faced with an organized exit plan from the eurozone for Greece, but were also faced with continuing pressures, blackmail, economic asphyxiation and closed banks, noting that "everything that could be done from the status quo, in order to blackmail the country. "He added that the agreement also "has cyclonic measures, which is not desired by us", to clarify, however, that there is room and time for counterbalancing measures and a parallel program which will ease the burden of this Agreement. On the positive side of the agreement are the low primary surpluses, the three-year stable funding programme and the recapitalization of banks, and stressed that at the same time, he opened the great debate on debt.
Gerovasilis said that "there was an embarrassment to the people of SYRIZA", to emphasise however, that as was demonstrated Sunday in the Nationwide Conference, "the melancholy of the Left is over, now starts melancholy of the Right". She also noted that a return to the drachma and the exit from the EU has never been a strategy of SYRIZA. "Everyone chooses his policy and is judges at the polls by the Greek people", concluded the spokeswoman of SYRIZA.
Tsipras's speech writer also left SYRIZA
Another resounding departure from Alexis Tsipras environment is that of his speech writer. Thanasis Kollias was adviser to the General Secretariat of the Prime Minister after the rise of A. Tsipras as prime minister. Indeed, in 2012, when Nikos Pappas went to serve his military service, it was Kollias who replaced him as director of the office of the head of SYRIZA.
In his open letter, published in Rednotebook, Kollias uses a sharp tongue
"I cannot be part of the expenditure of the greatest parliamentary victory of the Left in Europe, in just six months. Neither the expenditure of the 62% of NO of the Greek people – against a huge political, banking and media coup – in just one hours", he writes among others.
He also notes that the notice of election "is nothing more than a move for the clearance of the parliamentary group and the party. It is nothing else than the construction of the necessary internal enemy. It is nothing else but the last chapter of the splitting scenario for the party's break up".