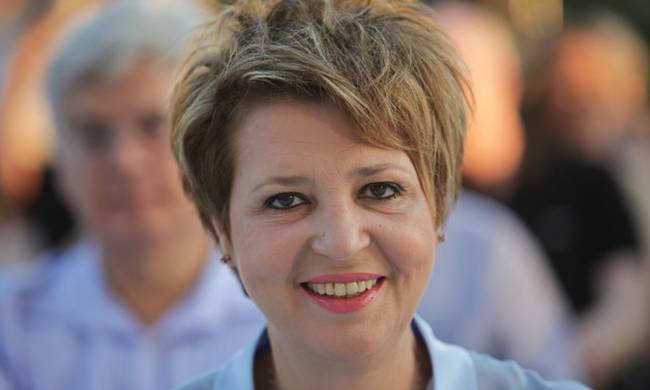 Athens, April 28, 2016/Independent Balkan News Agency
By Spiros Sideris
The Greek proposal for financial correction mechanism meets all the conditions set by the Eurogroup and is a red line for the government, said the government spokeswoman Olga Gerovasili, excluding the possibility of legislating "conditional" measures.
During the press briefing on the latest developments on the negotiations between the Greek side and representatives of lenders, Gerovasili was categorical: "The position of the Greek Government is that the deal can be closed with a financial correction mechanism. We can not go further. This is the limit of the agreement".
Gerovasili added that discussions at technical cadres level will continue in the afternoon (yesterday), only if there is a need on the part of institutions for clarification on the Greek proposal for the automatic budgetary correction mechanism.
The Government representative reiterated that the legislating conditional measures, as sought by the IMF, is outside the limits of the Constitution and out of the European legal framework.
Asked about the possibility of early elections or a referendum, Gerovasili replied: "I will not answer hypothetical questions. The evaluation will be completed. I am absolutely confident it will happen".
Gerovasili reiterated that the Greek side seeks the convening of a heads of state summit, in the occasion that the Eurogroup does not convene in the coming days and welcomed the statements of Tusk and Pitelis.
Asked about the reports that wanted Finance Minister contemplating his resignation, she said that there is no issue between the Maximos Mansion and Euclid Tsakalotos.
In response to relevant questions, Gerovasili said there is no worry about the cash reserves of the country, and there are no thoughts of the convening of the council of political leaders.
The government spokeswoman unleashed an attack against ND saying: "The stance of the main opposition causes a really bad impression. It must decide if we have said 'yes' to all or if we are driving the country to the rocks. Both of them together can not apply".
"Does ND agree with the IMF on the adoption of new preventive measures of EUR 3.6 billion. Because we have seen it agreeing with the IMF many times in the past. If it does not agree, the least they can do is not to undermine the negotiating battle of the Greek government. We urge New Democracy to join the national line in the interests of the country and society", said the government spokeswoman.