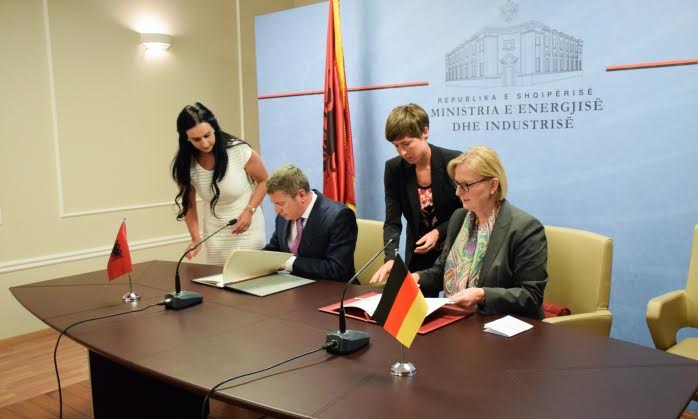 Tirana, 26 July 2016/Independent Balkan News Agency
Germany has decided to offer a 30 million euro loan for the construction of the 400 kV transmission line between Albania and FYROM.
The agreement was signed today (26.07) by the Albanian minister of Energy, Damian Gjiknuri and ambassador of the Federal Republic of Germany in Tirana, Mrs. Susanne Schutz.
This is one of the most important projects that links Albania to FYROM. So far, Albania has been linked to other neighboring countries such as Kosovo and Montenegro. This line will complete the links with the countries of the region.
Ambassador Schutz said that 30 million euros have been allocated for the interconnection line with FYROM.
"This funding is a contribution for sustainable power supply, which is a condition for further economic growth and an opportunity to turn into an energy exporter", she added.
The implementation of the project in the Albanian territory costs 70 million euros. The works will be funded through a scheme which combines 15 million euros worth of grants by the European Union, 50 million euros worth of a development loan issued by KfW and 5 million euros issued by Transmission System Operator (OST).
The project's implementation is expected to start at the beginning of 2017, while it is expected to be finalized at the end of 2020.
Economic cooperation between Germany and Albania is important for Albanian authorities.
Since 1988, Germany has allocated 810 millin euros for technical and financial cooperation, thus being the biggest donor on a bilateral level. /balkaneu.com/