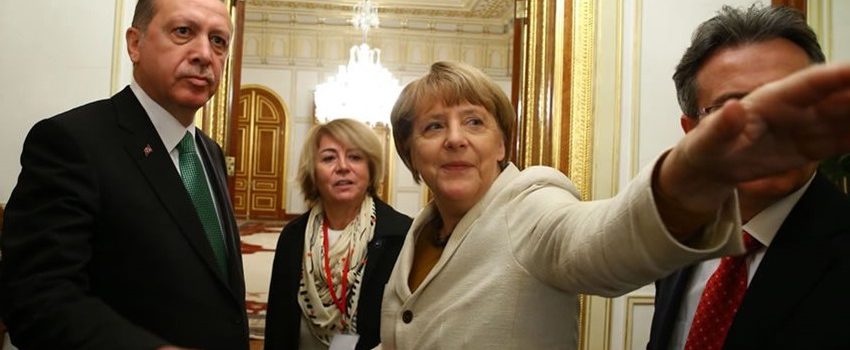 German Chancellor Angela Merkel has rejected Erdogan's Sunday accusations that Germany is using " Nazi practices" to prevent Turkish leaders from campaigning there for a "yes" vote in next month's referendum.
"There is no justification for this statement. We have significant disagreements with Turkey on issues of freedom of the press, mass arrests and the Deniz Yücel case", Merkel said.
The German Chancellor said that "comparison to the Nazis reduces the crimes the Nazis committed".
The Turkish President in a speech on Sunday night had threatened to go to Germany "and if I am forbidden from entering or from making a speech I will create an uproar."
Spokesman for the Chancellor Stefan Seibert kept a low profile in the German-Turkish tension and he said he "strongly rejected any comparison of policies of the Federal Republic of Germany to the Nazi era" did not fail to call out to the Turkish people and added "Be critical where necessary . But let us not forget the importance of our cooperation, our close relationship. Let's keep a cool head. "
German Foreign Minister Sigmar Gabriel said that "there are occasionally tense relations. Our task is to normalize again. "
So far the scheduled events of Turkish ministers in the Netherlands, Germany and Austria have "been put on hold until further notice" despite verbal attacks by Turkish officials.
The dispute comes amid worsening relations between the two countries over the detention in Turkey of journalist Deniz Yucel on February 27.
Deniz Yucel, the German and Turkish citizenship journalist of newspaper Die Welt, who was arrested last week in Turkey, has been placed in isolation. He is incarcerated in a prison, 80 kilometers west of Istanbul. In a letter, the journalist states that isolation is "almost a form of torture", but clarifies that his health and mental condition are well. Erdogan has called Yücel an "agent hiding in the German consulate."/IBNA