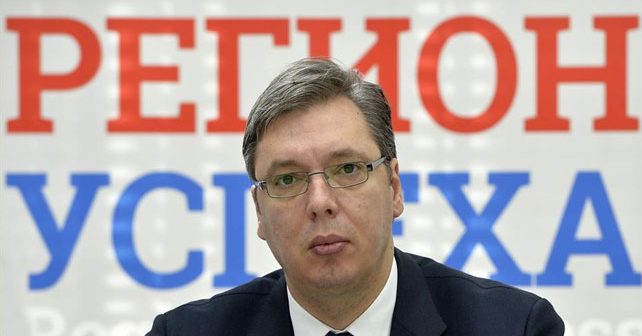 The advisors of German chancellor Angela Merkel Jan Hecker and Matthias Luettenberg have, with regard to the dialogue with Pristina, appealed on Serbia to exercise restraint, according to President Aleksandar Vucic, who met with them late on Monday. In today's interview for TV Prva, Vucic refrained from giving more details.
"I have confirmed (them) that Serbia will act calmly and remain restrained as much as possible", Vucic said.
The president said that after meeting with German officials he expects additional pressure to be put on Pristina in order for the customs tax introduced on Serbian goods to be abolished. However, he added he did not believe that that would occur soon.
Vucic has stressed that he would not consider the platform adopted by the parliament in Pristina last week. "We will certainly not take into account anything under their conditions. Something like that neither makes sense, nor it is possible",
Vucic has said that 100 percent tax introduced against Serbian goods represented a hard blow for Serbia which, due to that move, "loses 500 hundred million euro annually". He reiterated his criticism against Pristina saying that the Community of Serbian Municipalities in Kosovo, as agreed by the 2013 Brussels Agreement, has never been established; Vucic also recalled the pressure against Serbs in Kosovo and the arrest of director for Kosovo and Metohija Office, Marko Djuric, in 2018.
Before meeting with Vucic, Hecker and Luettenberg had visited Pristina where met with Kosovo officials. In their accounts, the Serbian media underline the German appeals on Pristina to abolish the tax against Serbian goods./ibna