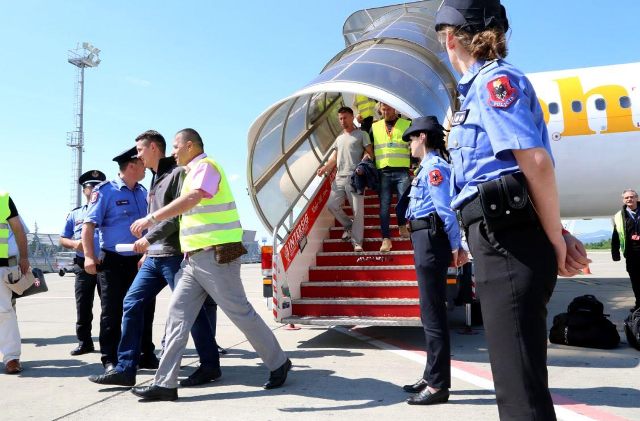 Tirana, 20 August 2015/Independent Balkan News Agency
Authorities in Germany have prepared a 40 day chart which includes 11 charter flights to Tirana and Pristina, with the aim of repatriating Albanians who seek asylum there but which have been refused.
German embassy has published the dates of the charter flights and said that at least 800 people from Albania and Kosovo will be repatriated from 20 August to 30 September.
Today, the first contingent of Albanians whose asylum application has been refused, will return.
According to a report of the German Federal Office, during the first 7 months of the year, 29,300 applications have been made from Albanian nationals.
The same figure applies to Kosovo too and this has led the total number of Albanians from Kosovo and Albania to 60 thousand.
Statistics show that Albanians in Western Balkan make up for the largest number of asylum seekers in Germany, surpassing the number of Syrians who are in a civil war.
With growing numbers of asylum seekers from Albania, the German embassy has publicly appealed in several occasions on the media explaining the legal situation in Germany.
The embassy insists that no economic asylum is granted in Germany and appeals for people not to be deceived.
"Only those people who manage to prove that they suffer persecution in their country, are entitled to remain in Germany. Asylum for economic reasons in Germany is refused. A job, poverty or illnesses are not strong reasons", the embassy says.
The embassy says that as of now, the applications from Albanian nationals will be processed through a fast tract process and this will reduce the time need to take a decision.
The embassy says that there are job opportunities in Germany but only for notable academics and professionals. For this, there must first be a job offer and then the person must apply for a stay permit (Blue Card) and the conditions must be deemed fulfilled before the journey. /ibna/