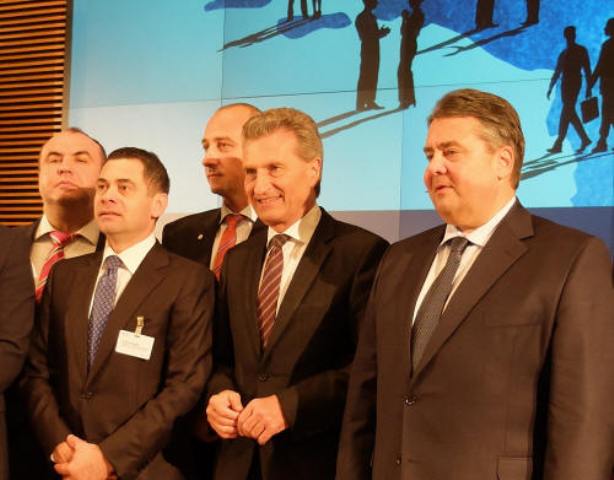 Tirana, February 27, 2015/ Independent Balkan News Agency
German government backs the construction of the Adriatic-Ionian Highway, by considering it as a bridge for West Balkan and Central Europe.
This highway, which is also known as the Blue Corridor, is seen as a good opportunity of the Balkan Country to develop ties between them and to bring them closer to the European Union.
In an effort to secure the support of one of the most developed EU countries, the Albanian minister of Economic Development, Tourism, Commerce and Enterprise, Arben Ahmetaj, is holding a two day visit to Germany.
He met with deputy Chancellor and Federal Minister for Economy and Energy, Mr. Sigmar Gabriel.
"Germany supports the construction of the Ionian-Adriatic Highway, not only as an important linking project for the region, but also as a bridge for Western Balkan and Central Europe", said Mr. Gabriel in the meeting with Mr. Ahmetaj.
According to the deputy German Chancellor, this is an important moment for the region and an opportunity that all countries must exploit by presenting projects which have a regional impact.
Gabriel declared that Germany will help in order to secure financial support for communication projects.
The German deputy Chancellor stressed the importance of this process for the Balkan region and the European perspective of the West Balkan countries.
He praised what he considered a crucial role that Albania has taken in this process, for coordination with all countries of the region, in the technical aspect and in relation to  to joint projects that the countries will submit in the second Conference which will be held in Vienna in the framework of the Berlin Process.
The meeting also discussed the list of projects which are expected to be proposed by West Balkan countries.
Chancellor Merkel's incentive a year ago marked a turning point in the perspective of the countries of the region and cooperation between each other.
The essence of the Berlin Process is the connection between the countries of the region, mainly in the domain of road, railway and energy infrastructure.
Minister Ahmetaj says that Germany's attention is an important contribution for the region.
Currently, the Albanian and Serb governments are working on a technical level in order to discuss regional projects that prime ministers of the countries of Western Balkan will present before Germany, Austria and European Commission in the next Conference which will be held in the month of August in Vienna.
Representatives from Kosovo and Montenegro will soon join to the meetings of the technical sub-teams. /ibna/