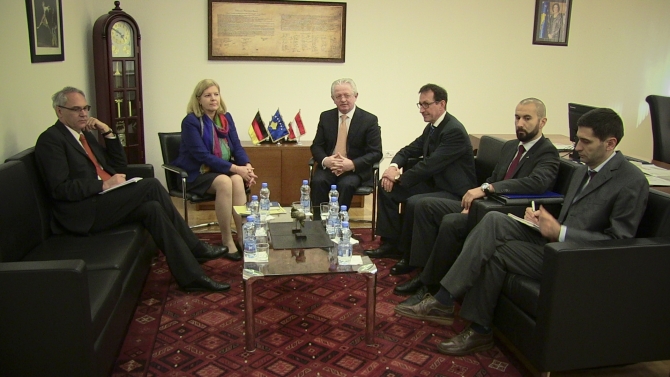 Pristina, December 17, 2014/Independent Balkan News Agency
By Elton Tota
Illegal migration is damaging for the citizens of Kosovo and it's threatening the process of the visa liberalization regime.
This was said in a news conference by the Interior Minister of Kosovo, Skender Hyseni, who received today the German ambassador to Pristina, Angelika Viets and the Austrian ambassador, Johan Brieger, in order to discuss on this issue.
Interior minister Hyseni said that the citizens of Kosovo must not choose the path of departure, but they must stay in Kosovo and demand from the government to improve the economic and social situation.
"In this phase, the priorities of the Ministry of Interior will be the fight against corruption and organized crime and against human traffic and illegal migration. We will be determined to fight the idea of participation in foreign wars, in terrorist acts and extremism. We will not allow Kosovo to be a country of origin or a country that harbors fighters and participants in terrorist acts and foreign conflicts", said Hyseni.
Meanwhile, German ambassador Vites said that Germany doesn't grant asylum to Kosovo nationals, although their numbers amount to five thousand.
She talked about the visa liberalization regime, where she said that Kosovo must do its homework on this issue.
"We're happy that the new government shares this worry with us, considering the growing number of Kosovo nationals who are leaving their country in order to reach Germany in an illegal way. Recently, we have heard rumors that have encouraged Kosovars to leave the country. There's no reason for Kosovo nationals to be granted asylum. No asylum is granted for economic reasons. Those Kosovars who come in our country have very little hope to be granted asylum. Almost 100% of their claims are turned down. We're expecting the next EU report on the visa liberalization to come out in spring 2015 and until then, there will be no visa liberalization. We must wait and see what the report says. Kosovo needs to do its homework", said ambassador Viets.
Meanwhile, ambassador Johann Brieger also said that the number of Kosovar asylum seekers in this country is around one thousand, stressing that this country doesn't grant asylum to Kosovo nationals.
He said that with illegal migration, Kosovo is losing a lot in the process of the visa liberalization.
"The situation today is dramatic. Under these circumstances, there are only losers. Families that do this, take out debts in order to reach a European country. Kosovo loses from these developments. This is an issue that prevents the process of the visa regime liberalization", said Briefer.
"In 2009, Austria included Kosovo in the list of safe countries and under these circumstances, asylum claims are not granted to Kosovo nationals", said he. /ibna/