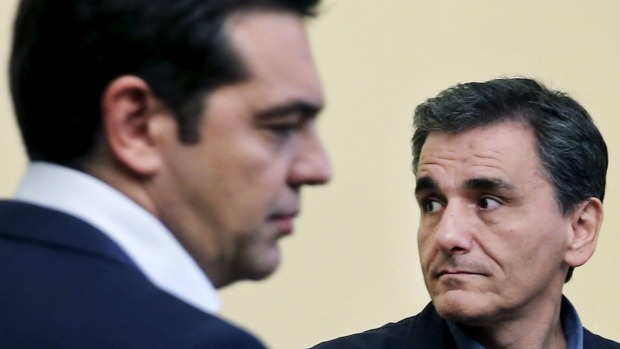 Athens, August 11, 2015/ Independent Balkan News Agency
By Zacharias Petrou
Greece hopes to conclude negotiations with international creditors by early Tuesday at the latest.
The new bailout deal could come to parliament for ratification as one bill with two articles – one article will be the loan agreement and the memorandum of understanding (MoU) and the second article will be the prior actions required for a first tranche of funds to be released, possibly in the region of EUR 25 billion.
On Monday reports in the Greek press suggested Prime Minister Alexis Tsipras is likely to call an early election immediately after the bailout agreement is ratified in parliament. A possible date for elections is September 13, should bailout talks continue to progress smoothly.
However, government spokeswoman Olga Gerovasili was quick to put such rumors to rest.
"The speculation about elections that has been cultivated over the last few days is not beneficial, nor does it reflect reality," she said. "What is at the head of the government's planning at the moment is the completion of the agreement with the institutions and what will happen after that. The first, and main, goal is putting into effect the pledge at the recent Euro Summit regarding debt relief."
If a draft MoU and an updated debt sustainability analysis are ready as planned on Tuesday, the Greek government and parliament would be expected to approve them by Thursday.
A Eurogroup meeting would then be held on Friday to approve the deal, leaving time next week for national parliaments in Germany, and the other creditor countries which must vote on the plan, to do so before August 20.
German government officials appeared a lot less optimistic than Greek counterpart that a quick deal is possible, allowing Greece to pay a EUR 3.5 billion debt repayment to the ECB due Aug 20. Apparently the German government believes a bridge loan to Greece would be more suitable than a full bailout deal being reached.
German government spokesman Steffen Seibert said Monday a swift conclusion to the Greek negotiations would be desirable although a thorough agreement was more important than a quick deal.
Meanwhile, a German finance ministry spokesman said that it would be sensible to link the size of the first tranche of aid to Athens' progress in implementing reforms.