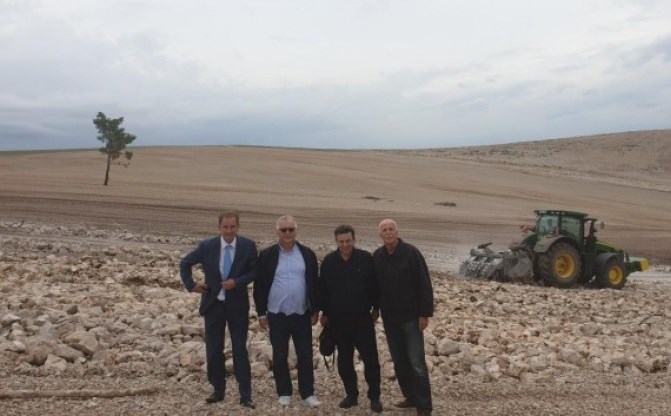 The BiH Foreign Investment Promotion Agency (FIPA) Director Gordan Milinić and the Agency for the Region of Herzegovina representative Amir Kazić visited the headquarters of the Impro-Impex Centre for Renewable Energy in Mostar, and the locations where Grebak wind power plant projects are implemented in partnership with a German investor (near Nevesinje) and organic farming (Gabela near Čapljina).
The Executive Director of Grebak Wind Power Plant Miralem Čampara and expert associate of the Centre for Renewable Energy Impro-Impex Ramiz Zaimović presented the current stages in the implementation of the mentioned projects.
FIPA in a press release noted that the exploration of wind potential at the Grebak site began 10 years ago, after FIPA and Impro Impex – Centre for Renewable Energy Sources from Mostar presented the potentials and benefits of wind energy at the locations of Grebak and Morina to the leadership of the Municipality of Nevesinje, and the Mayor of Nevesinje from this period Brano Miković approved the installation of measuring pylons.
The Government of Republika Srpska signed in April this year with the company VE Grebak d.o.o. a Concession Agreement for the Construction of the Grebak Wind Power Plant of approximately 50 MW and the investment value of approx. 130 million BAM (around 65 million EUR). Up to 15 wind turbines are planned to be installed with an annual production of about 130 GWh of electricity. A possible start of construction for the end of 2020 is planned (why full support from the competent institutions is needed for the project) and an expected completion for the end of 2021. Commissioning, testing and warranty testing are expected by mid-2022.
According to the decision of the Government of Republika Srpska, the concession fee is 0.0055 KM / kWh of electricity produced, and the Municipality of Nevesinje could receive up to 800,000 BAM of concession fee annually.
The designation of a wind farm as a project of public interest is going to accelerate the resolution of property relations for the project needs.
"In the project of agricultural production, which is being implemented in the Gabela area near Čapljina, it is fascinating to hear and see how 140 ha of barren land in Herzegovina is transformed into a fertile ground for planting organic plants and other Mediterranean crops such as olives, pomegranates, figs and other, with respect of the strictest standards for organic production of quality DEMETER", said FIPA.
So far, about EUR 5 million has been invested in this demanding project, with the total investment planned at EUR 8 million.
Milinić expressed great satisfaction with the environmental projects that will contribute to the production of clean energy and organic agricultural products, and promised every kind of support and assistance in their implementation.
Due to the importance of investment projects for local communities, the region and beyond, FIPA, in cooperation with the investor, will devote its full attention to eliminating possible administrative obstacles in the implementation of these projects./ibna