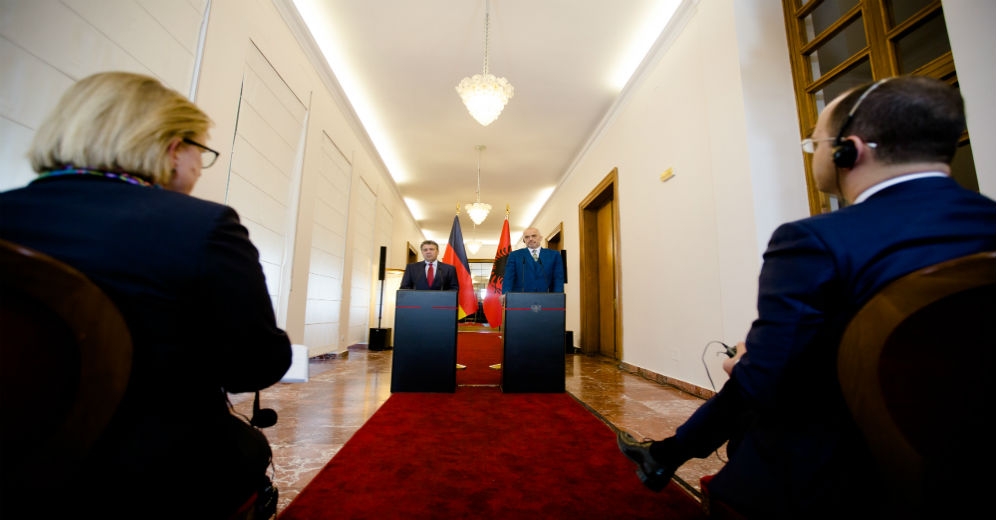 By Edison Kurani
The German Foreign Minister, Sigmar Gabriel arrived in Albania on Monday for an official visit, where he met Prime Minister Edi Rama and leader of opposition, Lulzim Basha.
In a joint press conference with PM Rama, before holding a meeting with Basha, Mr. Gabriel criticized the opposition's actions, demanding for it to return to Parliament.
"He who blocks the work of parliament, doesn't allow the country to get closer to the EU and damages the interests of the citizens of his country", Mr. Gabriel said stressing several times that this is the official stance of the government and Chancellor Angela Merkel.
The German Foreign Minister also commented the suspicions of the opposition that there cannot be free elections with Rama as Prime Minister. Even in this case he was against and suggested a greater number of foreign observers.
"If the opposition has concerns about free and fair elections, it has a chance to make sure and have free and fair elections. We are willing to help with this. We can bring more electoral observers, discuss further on how to shape also the financing of electoral campaigns, but this can be discussed in parliament, not in the tent. Therefore, we urgently advise to end this parliament boycott in order to move on with free and fair elections".
Mr. Gabriel warned the opposition when adding that ""If elections are boycotted, or if the country goes through a chaotic situation, of course we cannot have consensus on this, and we cannot provide support".
Meanwhile, he also offered an advice to the democrat leader: "As a politician, each of us must take decisions that sometimes must overcome our personal interests, putting in the foreground national interests. I think that the main interest of the citizens of your country is to continue on the path towards the EU".
Mr. Gabriel's declarations are seen in Tirana as some of the strongest ones against the opposition for the past to months since it boycotted Parliament and set up a tent between the Prime Minister's Office and Parliament's headquarters. /balkaneu.com/