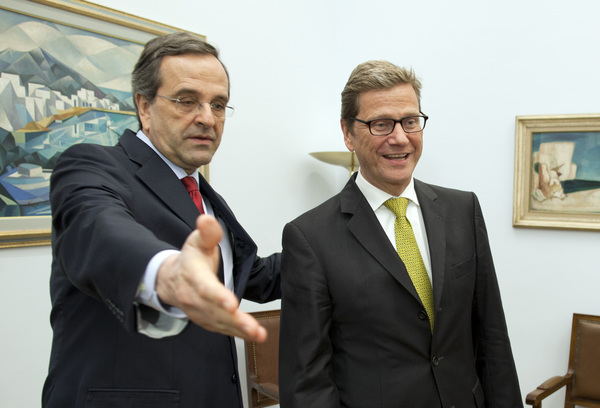 Review by Christos T. Panagopoulos
"We think Greece will make it". With this statement, German Finance Minister, Guido Westerwelle, responded to Greek Prime Minister, Antonis Samaras, who accepted him at the Maximos Mansion in Athens on Thursday.
"My message is a message of respect, solidarity and encouragement. I think the ship starts when you are at coast; the sails are set into development in Greece, which will bring more prosperity in the future to the people of the country. That's the reason why we are here, to express our solidarity, to send a message of encouragement and that we think that Greece will make it", noted Mr. Westerwelle.
Mr. Samaras, from his side, thanked German FM for visiting and "for being a friend of Greece". He also stated that "stability serves to create the necessary conditions for what we all want, just growth".
Furthermore, Greek Prime Minister referred to the meeting of Labor ministers in Berlin to deal with youth unemployment, which he attended on Wednesday, and said: "I think it went very well. It's a discussion that will continue in Paris later, so we are really focusing on this and that' s important also".
Source: AMNA