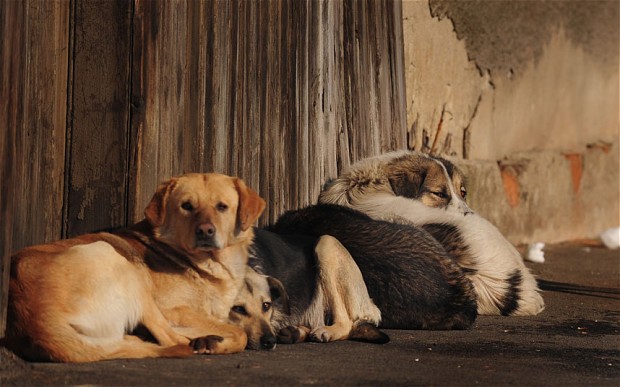 Bucharest, February 2, 2015/ Independent Balkan News Agency
By Daniel Stroe
Stefan Eck, a German member of the European Parliament, has today called on Bucharest City Council to suspend the head of the local stray dogs management authority after saying, a few weeks ago, that about 90 per cent of the dogs adopted abroad ended up in zoophiles brothels in Germany and Denmark.
Eck called Razvan Bancescu's statement "monstrous" and "scandalous" and they "discredited the animals' protection associations". "These accusations are even more serious since Mr Bancscu is a controversial person against whom 68 complaints have been lodged and who bears the responsibility of maltreating tens of thousands of dogs in your country", he said today while attending a meeting of Bucharest City Cuncil.
Speaking in a press conference on 15 January, Bancescu said more than 51.000 stray dogs have been rounded up since October 2013, with only 4.000 animals still scouring the streets of Bucharest. Referring to the dogs adopted by foreigners, Bancescu shocked the audience when saying 90 per cent of the dogs are used for different purposes – medical tests and zoophilia – blaming the NGOs that supervise adoptions. He presented images which he says sustain his conclusions, taken in zoophiles' brothels in Germany and Denmark.
According to the German Euro-lawmaker, quoted by Hotnews, Bancescu's accusations have not been verified or endorsed by evidence, nor did the Bucharest City Hall condemn them. "By these accusations, not only has Mr Bancescu discredited the animals' protection associations in Romania, Germany and Denmark, but the very modern idea of animals' protection and justice in Germany, apparently tolerant to dogs' sexual abuse. It is unacceptable. In my position as member of the European Parliament, I believe these accusations which remind of the Ceausescu's regime lying propaganda and come from a person who has a leading position in ASPA (the local agency) are monstrous and unacceptable", Eck pointed out.
Unless the local authorities take steps to suspend Bancescu, Eck warned he would ask the Romanian Government and the European Parliament to react. "If Mr Bancescu's statements don't entail an adequate reaction from you and are not followed by disciplinary measures against him, I will have to warn this slander campaign is overtly endorsed by Bucharest's General Council", he added.
His words fell on deaf ears. On the contrary, some councilors accused Eck of committing an abuse by launching accusations against Bancescu. Some said a committee is already investigating Bancescu's accusations, but no further details have been provided. In his turn, Bucharest mayor Sorin Oprescu struck a conciliatory note, assuring Stefan Eck that, if found guilty, Bancescu will be held accountable. He also pointed out local authorities in Bucharest have the capacity to organize themselves, without intervention from the outside.