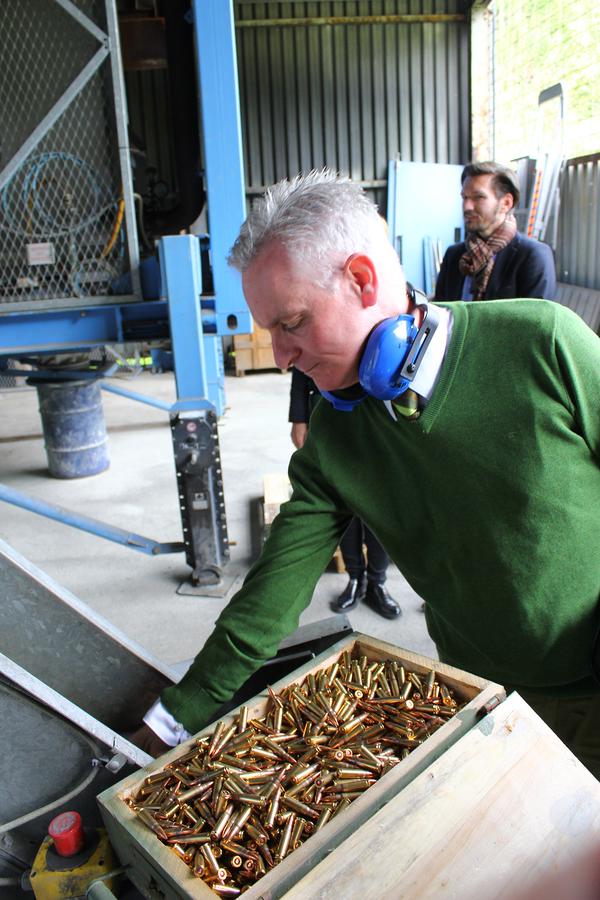 Sarajevo, April 24, 2015/ Independent Balkan News Agency
By Mladen Dragojlovic
Less than three weeks since Germany signed a contract for the realisation of the UNDP project "Urgent Action on Ammunition Destruction in Bosnia and Herzegovina", a delegation from the embassy of Germany in Sarajevo visited the Ammunition disposal facility in Doboj, called TROM.
The delegation was led by Defence Attaché, Lieutenant Colonel Rupert J.J. Steeger, who was joined by representatives of UNDP. The aim of the project is reducing ammunition stockpiles and improving ammunition stockpile management.
"Through this program, we make sure that these small arms ammunitions don't fall into the wrong hands. The reduction of ammunition stockpiles contributes to national and regional security and helps the long term development of Bosnia and Herzegovina", said Lieutenant Colonel Rupert J.J. Steeger.
By allocating nearly 250,000 Euros, the German government provides a considerable addition to this project. As Steeger said, the grant will be used to dispose of more than 5 million rounds of small arms ammunition, improve the infrastructure of the ammunition disposal sites, and provide training for personnel on relevant ammunition stockpile management aspects.
UNDP Human Security Programme Manager, Jasmin Porobic, said that  assistance to the Ministry of Defence in their work to destroy ammunition stockpiles and improve the overall safety and security of storage sites will enhance the country's arms control mechanisms and its developmental prospects.
"Failure to attend the surplus and unstable ammunition in BiH would result in the most serious consequences to assets, persons and the environment", Porobic said.
According to UNDP estimations, more than 15,000 tons of surplus ammunition is stockpiled in Bosnia and Herzegovina and some of these stockpiles are in poor and unstable condition. The proliferation of small arms ammunition presents a serious challenge to international and national security. Responding proactively by destroying ammunition stockpiles will decrease the threat that the illicit proliferation of small arms ammunition could otherwise have on Bosnia and Herzegovina.
It is also estimated that over 5 million rounds of small arms ammunition will be destroyed in BiH with the help of Germany.