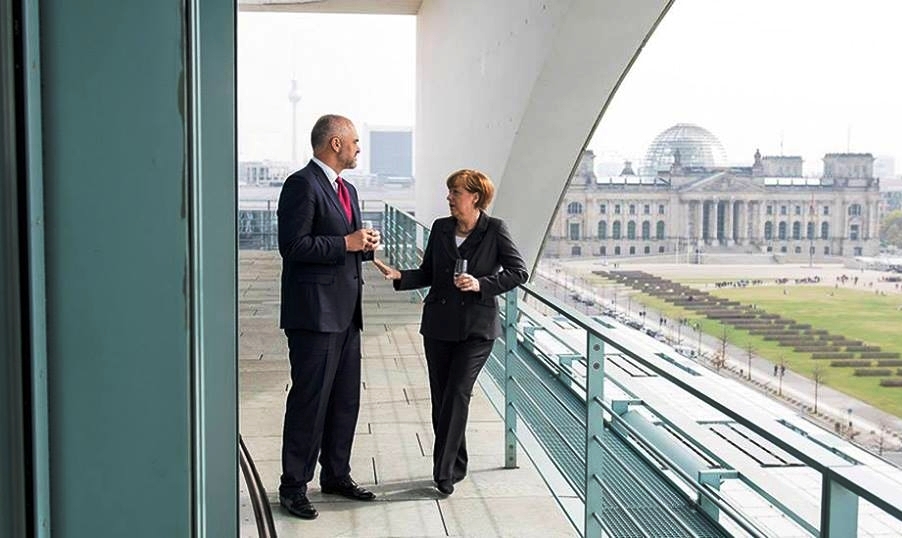 IBNA Special Report/In this report, IBNA hears from prime minister Edi Rama, Foreign minister, Ditmir Bushati, former head of secret services, Fatos Klosi
Tirana, August 27, 2014/Independent Balkan News Agency
By Edison Kurani
All these years, Germany has not only been Albania's big brother in Europe, but it has also been a Big Brother in terms of eavesdropping for the government in Tirana.
This fact has not been received badly in Albania, in contrast to Turkey or USA. In the first case, authorities expressed strong criticism about the eavesdropping scandal. In the American case, the mutual eavesdropping experience froze diplomatic relations between Washington and Berlin. This all started when it was proved that American secret services eavesdropped the German government. This was even the case with the phone of chancellor Merkel. The latter strongly reacted. A while later, it was discovered that German secret services eavesdropped the telephone calls of the US secretary of state, John Kerry.
The Albanian case seems to be different. Prime minister's Rama government reacted late and said that it was more than acceptable.
The former prime minister, who seemed to have been the one who was eavesdropped, continues to keep quiet.
Other members of the Albanian politics refuse to make any comments, even more so when adding another detail, that USA is reported to have eavesdropped Albania…
Merkel: You must understand why we are hesitating to speak
German chancellor, Angela Merkel doesn't deny the accusations according to which, BND secret services have  eavesdropped Albania, but she refuses to comment on this fact. Merkel said that there must still be details on the eavesdropping that has been made and these details are not possessed by her and that she must be informed about the nature of BND's eavesdropping. "You must understand our hesitation. We need details about the nature of the BND's activity. I cannot comment", said Merkel, further adding that "eavesdropping among friends is acceptable", referring to the USA. "Eavesdropping among friends is acceptable. As far as USA is concerned, it was in the context of a promise. This context is important", said Merkel.
Rama: No harm is made to Albania by these eavesdrops
After the publication of the eavesdropping scandal, prime minister Edi Rama kept quiet. His entire cabinet too. After Merkel spoke, Rama broke his silence. His reaction was featured by two elements: The frequent quotation of Merkel's words and the suggestion that no harm is made to Albania by German eavesdrops.
"When it comes to security, the efforts for information and action to guarantee security, know no boundaries. This is why I don't think we should exaggerate such thing. Of course, quoting what the Chancellor said, we will use normal diplomatic channels to exchange the necessary information to clarify this issue. But, I repeat, no harm is done to Albania if Germany or other ally countries do their job for the sake of security, at a time when the world and our country are threatened by aggressive safety factors that relate to terrorism", said Mr. Rama.
German ambassador must provide explanations to Tirana
German ambassador to Albania must offer explanations to authorities in Tirana in relation to the scandal of eavesdropping that BND has made to the Albanian government.
Sources from the Foreign Ministry say that Foreign Minister, Ditmir Bushati is expected to summon for clarification the ambassador of Germany to Tirana, Helmut Hoffman, on the issue of the eavesdropping of the Albanian government.
Bushati has explained the reasons why according to him, the German secret services eavesdropped the Albanian government. "Let us not forget that we're two NATO member countries and that there's interaction between our countries and this happens on a political level, military level and intelligent services level. When it comes to issues of terrorism, organized crime or other forms, which today have turned into a threat for national security, not only for one country, but a group of countries, which represent western civilization, I believe that interaction is a key element, as these are phenomena that go beyond the official borders of a state", said Bushati.
The minister said that he will be in constant contact with Germany and the issue of eavesdrops will be handled through diplomatic channels.
"I'd like to assure the public opinion that we're in constant contacts with Germany as a strategic partner country as far as the European perspective of Albania is concerned. This is an issue which will be handled in diplomatic channels", said the minister, adding that: "I cannot make any more comments besides the declaration of chancellor Merkel that issues of national security are issues which are addressed in the right diplomatic and official channels. None of the means that diplomacy is using in this aspect must not be ruled out".
Klosi: Eavesdropping is a result of the lack of trust toward Albanian politicians
Former head of the Albanian secret services, Fatos Klosi says that Germany has a more advanced technology and the most powerful one in Europe and this offers to this country more advantage in eavesdropping.
Commenting on the most recent discovery, Klosi says that the fact that the Albanian government has been eavesdropped by German intelligent services, BND, shows that Berlin has never trusted the Albanian political class. He says that this also confirms the climate of mistrust and the formality of official declarations.
"The eavesdropping of German intelligent services show that Germany has never trusted the Albanian government and Albanian politicians. It has never trusted their official declarations and stands. This is why they wanted to find out what these politicians really think. Secondly, Germany has had its doubts on Sali Berisha and his ties to crime", says Klosi, alluding that the eavesdropping has been made during the period when Sali Berisha was a prime minister.
Klosi says that eavesdropping among countries has now become something common, but according to him, countries mistrust each other.
For the former head of the Albanian secret services, "eavesdropping from the international community is good for us", as according to him, western chancelleries learn more about our problems and intervene where they should.
Former head of secret services advices Tirana not to demand explanations for violation of state privacy. He says that if Albania had the technical means, it would eavesdrop other countries. "We would also want to know what Germans thought, but we have no technological means", says Klosi.
***
The eavesdropping scandal comes a few days before the holding on Thursday of the Conference of Western Balkan in Berlin, which will be hosted by the German government.
Chancellor Angela Merkel said that the German government decided to organize such high level event, inviting the prime ministers, foreign ministers and economy ministers of Western Balkan in order to mark the 100th anniversary of the start of the First World War.
In a report published this weekend in the German press, it was revealed that Albania had been part of important countries to be monitored even before joining NATO in 2009. Therefore, Albanian authorities were eavesdropped by German BND. The report says that information on organized crime in Albania were the focus of these eavesdrops. Nothing official has been declared over the full length of this process and if it still continues.
US media had reported earlier that Tirana had also been eavesdropped by USA, where Albania had been part of the list of countries eavesdropped by National Security Agency. /ibna/