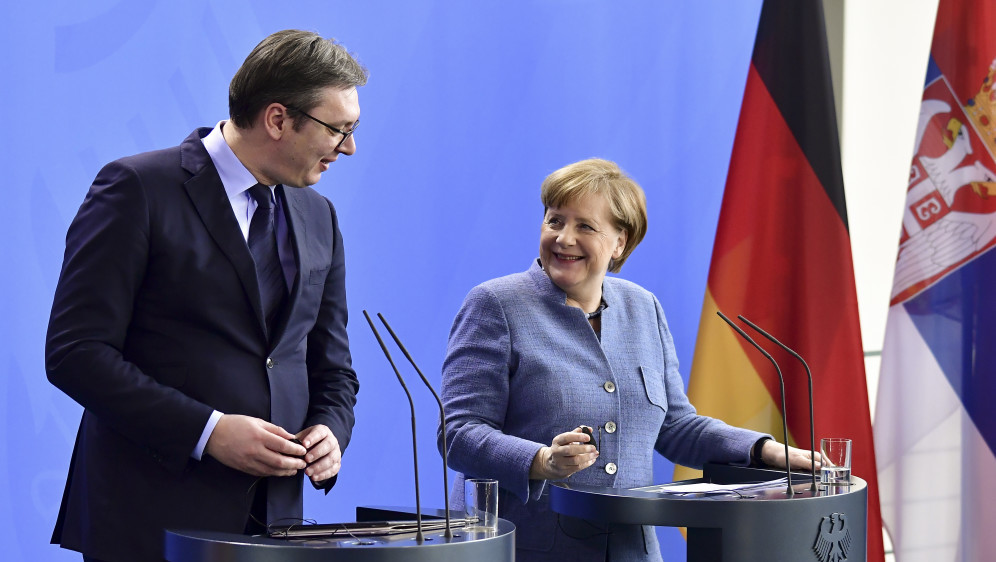 The official visit of Serbian president Aleksandar Vucic to German chancellor Angela Merkel on Tuesday has passed as expected, with the exchange of routine kindnesses and compliments; however, the visit was part of the "offensive" of both Berlin and Brussels in the Western Balkans, Deutsche Welle (DW) analyses today.
"The fact that Angela Merkel has invited her best pupil from the Balkans to Berlin amid the hottest phase of the campaign (for Belgrade local elections on Sunday), has many going back to last year's visit when Vucic, prime minister at that time, had come to the Kanzleramt in the middle of the presidential run (in Serbia)", DW states.
But both Merkel and Vucic anxiously wait for the upcoming Sunday.
It is on that day, that it will be known whether German social-democrats have decided to create another grand coalition with Merkel's conservatives; the negative decision may mean that Merkel, chancellor since 2005, will retire from politics. At the same time, Vucic waits for the results of the Belgrade elections. Although polls are local, his Serbian Progressive Party runs with Vucic's name at the top of the ballot papers. "However, as it is said in Berlin, the visit is primarily connected with the sort of offensive of Brussels and Berlin with regard to Western Balkans", according to DW.
"The recently presented EU Strategy for that region could be interpreted as both – an encouragement, but also as too tepid (document); simultaneously, the series of diplomatic activities are aimed to secure that Brussel's approach would prevail", the commentator of the Germany's public international broadcaster concludes. According to analysis, what EU and Berlin try to say to Western Balkan countries is: "count on us".
DW recalled that Vucic met European Commission's president Jean-Claud Juncker in Belgrade on Monday. Juncker stopped there during his Balkans tour. Shortly before that, the German foreign minister Sigmar Gabriel and EU's enlargement commissioner Johannes Hahn had separately visited Belgrade. "And after a long pause, the technical dialogue between Belgrade and Pristina is being continued in Brussels".
"Angela Merkel has obviously taken the leaders of the six countries from the EU's waiting room on her shoulders, to welcome them in Berlin. Last week her guest was Zoran Zaev (fYROMacedonia's prime minister), and after Vucic many others may come", the Deutsche Welle commentator concluded…/IBNA