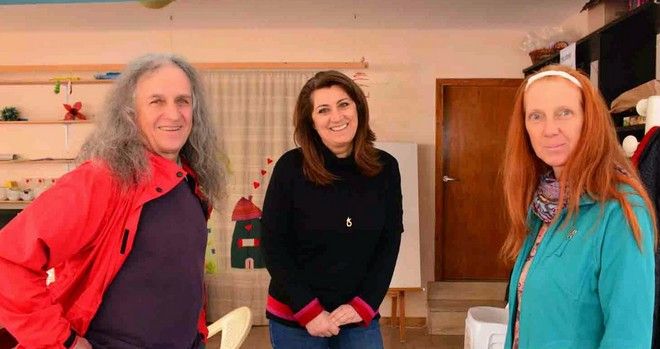 Athens, March 19, 2015/ Independent Balkan News Agency
By Spiros Sideris
In a move with great symbolism proceeded a German couple who regularly visits Greece, who after essentially recognising the German indemnities, paid their share of the reparations amount to the Greek State.
Their names are Ludwig Zacaro and Nina Lahge, they are German citizens and contrary to what is being said lately on the opinion of the Germans for Greece, they show their solidarity and appreciation to the Greek people. They went to Nafplio and deposited to the Culture Gate of Nafplio the amount of EUR 875. This amount corresponds to their share of the WWII reparations, which Greece claims. This amounts to EUR 70 billion and if divided by the population of Germany (about 80 million) it comes down to EUR 875 for every citizen.
"We are guests in this beautiful country and we want to give something back. Not as charity, but as something that belongs to you", Nina said in a press conference on the occasion of their touching gesture.
"I am ashamed of the arrogance, which our country and many of our fellow citizens show towards Greece. They argue: 'The Greeks must finally pay their debts'", Nina Lahge said among other things and emphasised that the Greeks are not responsible for the debts created by the state in the past. "Due to the current expected improvements Greece should not be blocked, but supported", she added.
Referring to political developments in the country Nina stressed that "the current government for the first time expressed its intention to negotiate in favour of the people and against big business and to prevent the looting of the economy. It alone should be supported by the EU and not blocked. Unfortunately the opposite is true". She went on arguing: "It should be noted that the Greek people not responsible for the fiasco of previous governments. The previous government created debts in favour of the oligarchy, but the people will have to pay for them".
Taking sides as opposed to the political leadership of her country she said: "On the contrary, Germany is the one that owes to your country. The payment of reparation money since the Second World War, some of which are the forced loans of 1942, estimated to about EUR 11 billion, which with interest today amount to EUR 70 billion".
"We want, as a sign of solidarity and as a symbolic move, a part of them, 875 euros to return to the Greek population", she noted and concluded: "We are making this known to give the stimulus to others to open their minds and lead our state to acknowledge this debt against Greece".