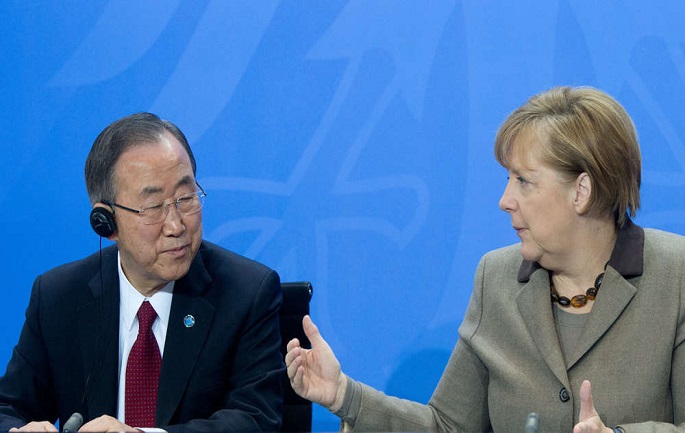 Tirana, 9 March 2016/Independent Balkan News Agency
German chancellor Angela Merkel has called on European authorities to secure the borders of Albania and former Yugoslav Republic of Macedonia with Greece in order to prevent the illegal crossing of refugees.
Mrs. Merkel's declaration was issued during a joint press conference in Berlin with the UN Secretary General, Ban ki-Moon.
During this meeting and in the press conference, the two personalities talked about coping with the difficult situation caused by the wave of refugees arrived from Middle East toward Europe.
"We must secure the borders of Albania and Macedonia with Greece", Mrs. Merkel said, while calling for an end to the illegal Balkan route for refugees.
Merkel said that in order to achieve such thing, there must be cooperation between all member countries and that the strengthening of borders will enable Greece to better cope with the situation.
"We really need to secure borders of Albania and Macedonia with Greece. We must also offer accommodation for asylum seekers. The solution of the crisis can only come by collaborating with Turkey. Cooperation can reintroduce stability in Greece", the German chancellor strengthened its appeal.
For the moment, there are around 33 thousand refugees in Greece. The high number of asylum seekers has caused a very difficult situation in Greece especially in its border with FYROM, where refugees have remained blocked for several weeks. /ibna/