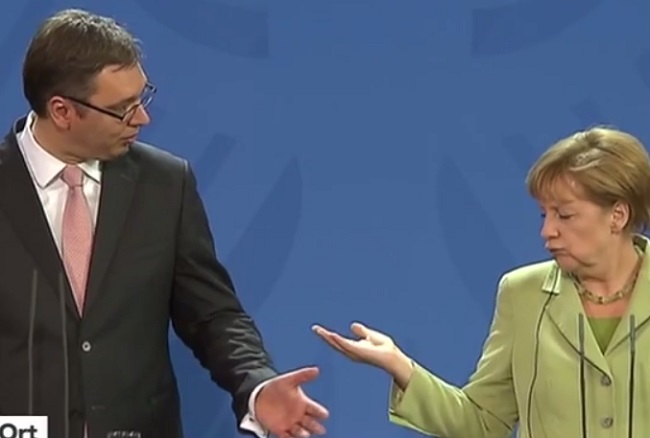 Belgrade, October 14, 2015/ Independent Balkan News Agency
By Milos Mitrovic
If new "German amendment" in the process of Serbian accession to the European Union is adopted, Belgrade's perspective would become "problematic" due to additional conditioning of talks with normalization of the relations with Pristina, sources from Brussels told Serbian national television (RTS) correspondent. At the same time, despite alleged shock in Serbian government, some politicians say this was nothing new.
The amendment refers to Chapter 35 in the accession talks; this Chapter is connected with the dialogue between Belgrade and Pristina and issues which are not tackled in other chapters. In January 2014 Serbia officially started accession talks with EU, but non of the chapters have been opened so far. If German fresh precondition is adopted, the dynamics of all other segments in accession talks would depend on dialogue with Pristina, sources from Brussels have explained.
RTS recalls that similar position "is already known and integrated into EU's general negotiation framework two years ago". This means that European Commission and EU member states may block the opening of the chapters if they assess that the dialogue with Pristina is regressing because of Serbia.
Late on Tuesday head of Serbian Office for Kosovo and Metohija Marko Djuric said that the preconditions for Serbia in accession talks "deteriorate". In his words, Serbia is under pressure to recognize Kosovo's independence "directly or indirectly".
He added that the amendment was submitted by Germany and supported by United Kingdom "and not surprisingly, Croatia".
Serbian media extensively report on Prime Minister Aleksandar Vucic's "strong reaction" at the dialogue with Pristina mediated by the EU in Brussels on Tuesday evening. "Don't talk to me about chapters anymore. Open them if you want. If you don't want, don't (open them)", Vucic allegedly told EU's High Representative for Foreign Affairs and Security Policy Federica Mogherini.
At the same time, Slobodan Samardzic, former Serbian Minister for Kosovo and Metohija, told Danas daily that "new precondition" was nothing new. In January 2014 Serbian government has agreed it would accept "legal document on Kosovo recognition". "West is not interested how will Vucic sell the handover of Kosovo to Serbian public", Samardzic suggested.
Minister without portfolio Velimir Ilic told Pink TV that EU has demanded from Serbia to recognize Kosovo as early as in 2007.
According to his previous statements as well as of his aides, premier Vucic is to call early elections soon. His Serbian Progressive Party decisively leads in the polls.