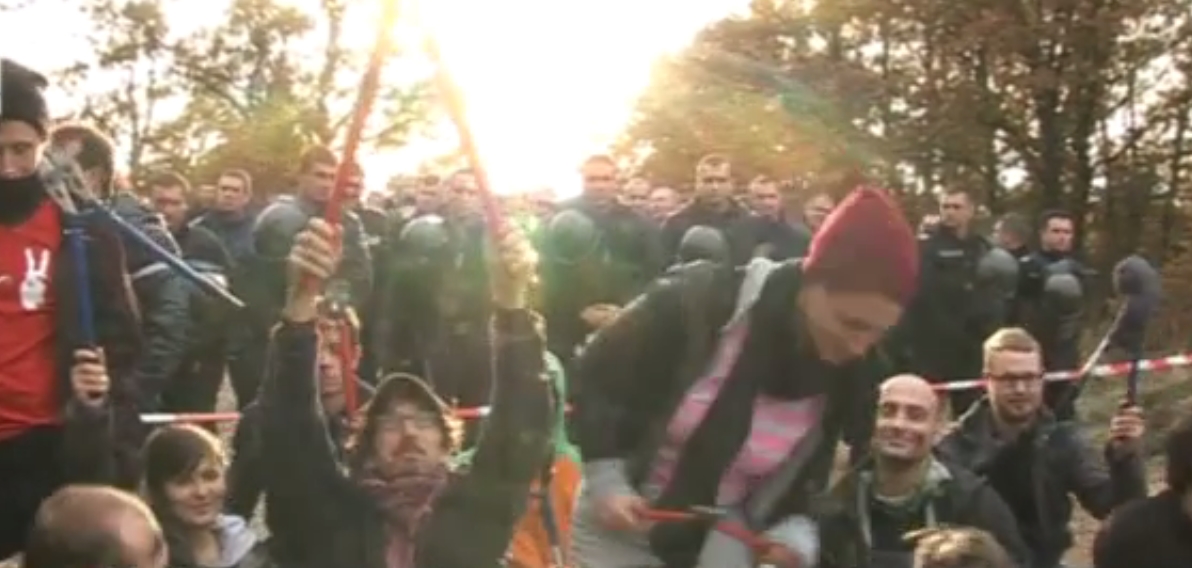 By Clive Leviev-Sawyer of the Sofia Globe
More than 80 human rights activists from Germany held a symbolic protest near the Bulgarian-Turkish border fence marking the 25thanniversary of the fall of the Berlin Wall, protesting to demand an end to refugees from being deterred from entering Bulgaria.
The protest saw minor scuffles between the activists and Border Police, who held them back from getting closer than the 300 metre limit from the fence.
On November 9, the group of people from German and Polish NGOs, accompanied by a group of German journalists, arrived near the village of Golyam Dervent, close to the Turkish border.
One of the activists told reporters, "we want to go to the new fence of the EU". He said that they had written to Bulgaria's Interior Ministry and spoke with Border Police because they wanted to hold an "art performance" near the fence.
"This art performance will be 100 per cent peaceful and there will be no violence against anyone about anything," the activist said.
Bulgaria's authorities had turned down the request for access to the fence because protests are not allowed in the border strip and near the state border.
When the group arrived, gendarmerie, who linked arms to bar access, said that it was unlawful for the group to enter the border zone.
Zaharin Penov, head of the Border Police, said that the group was ignoring the fact that the police were not permitted to allow them to enter the border strip. "I urge all parties to adhere to what they declared, that they will comply with the instructions of the Bulgarian police and will comply with Bulgarian legislation".
The activists held a minute's silence in memory of the victims of the Berlin Wall, people from East Germany who had tried to flee to the West. With hands raised, the group sang that refugees were welcome. An attempt to penetrate the police cordon was pushed back.
After holding up wire-cutting tools, the group left, reportedly to head for a similar demonstration in Greece.
Bulgaria had advance word of the arrival of the group. A day before the protest, Bulgarian Interior Minister Vesselin Vouchkov said that the group would not be allowed to pull down the fence.
"All European citizens have the right to move freely on the territory of Bulgaria, which is also a EU country, but it is not an unfenced yard and we will not allow encroachments on a State installation," Vouchkov said.