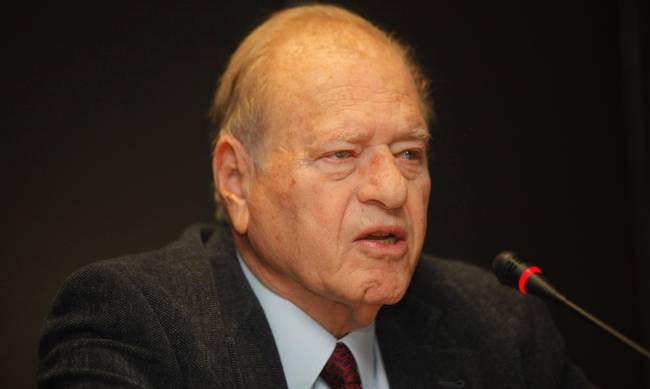 Athens, April 20, 2016/Independent Balkan News Agency
By Spiros Sideris
Gerasimos Arsenis, minister of PASOK governments for Andreas Papandreou and Kostas Simitis, passed away on Tuesday.
He was married to Louka Katseli, current chairwoman of the National Bank.
Gerasimos Arsenis was born in Kefalonia in 1931. He studied law at the University of Athens and continued his studies at MIT, Massachusetts.
He worked as an economist at the United Nations in New York and Geneva.
During the dictatorship (1967-1974) he took part in anti-dictatorship demonstrations and anti-dictatorship newspapers printed abroad, working with the CIP in the United States.
He attended the PASOK course since its foundation as a member and contributed with his views, when he was asked, despite his absence abroad, where he continued his activity as a UN member for helping poor countries, while he also participated in the formation of the party's program for the first four years of its governance.
He was governor of the Bank of Greece, between 1981-1984 and finance minister in the government of Andreas Papandreou (1984-1985).
In 1985 he resigned as a minister after disagreeing with Minister Andreas Papandreou on economic policy and was replaced as minister of Economy by Costas Simitis.
In March 1986 he was deleted from PASOK and founded the Greek Socialist Party (PSE).
He returned to PASOK in 1989. In 1990, in the 2nd Conference of PASOK, he was elected member of the Central Committee.
"Giorgos, we lost …"
Six years later, in 1996, after the departure of Andreas Papandreou for health reasons, he claimed the prime minister's office in the vote conducted by the parliamentary group of PASOK, but was left out for just three votes in the first round.
Out of 167 MPs, he gathered over 50 preferences, against 53 of Costas Simitis and Akis Tsohatzopoulos who tied and qualified for the second decisive round where Costas Simitis eventually prevailed.
At this critical moment of his political career he kept his temper and readiness for self-sarcasm in accepting defeat by saying: "Giorgos, we lost…". Taking the step, after the announcement of the result, he recounted the story of a peasant, who heard an inner voice urging him to play his entire fortune at the track, on a horse. When he lost all his money, the peasant heard the same voice saying: "Giorgos, we lost…".
He served as Defence minister in the government of Andreas Papandreou (1993-1996) and as Education minister in the first government of Costas Simitis between 1996-2000.
At the same time, he was president of the Institute for Policy and Strategy for Development and Governance (INERPOST) and vice president of the Marangopoulos Foundation for Human Rights (MFHR).