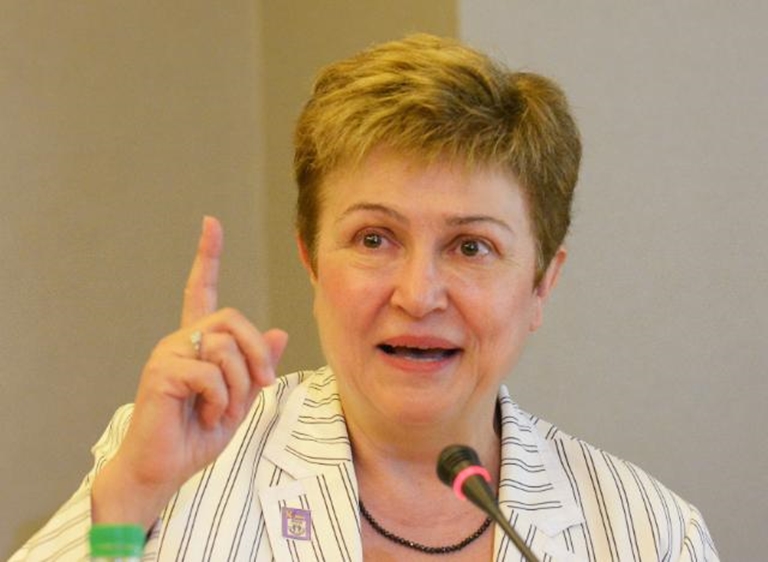 By Clive Leviev-Sawyer of the Sofia Globe
Attempts by the Bulgarian Socialist Party (BSP) for the country to name a candidate European Commissioner other than Kristalina Georgieva appear to have failed.
At its final meeting before its resignation, the cabinet put in place on the basis of a mandate held by the BSP discussed the question of the nomination but postponed the issue.
Some in the BSP had been pushing for Kristian Vigenin, foreign minister in the BSP cabinet that will leave office on August 5, to be Bulgaria's nominee for the European Commission.
Apart from Vigenin being a vastly weaker candidate than Georgieva, a member of the EC since 2009 and who has high-level World Bank experience as well as significant support in influential EU countries, it would seem unlikely that even if he had been nominated, he would be considered for a post such as EU foreign policy chief.
Georgieva's name has been frequently mentioned as on the "very short list" of candidates to succeed Catherine Ashton as EU foreign policy chief in November, but it is by no means certain that this could happen.
A meeting of EU leaders earlier in July failed to produce an agreement on the foreign policy chief and on the future European Council President, and the leaders will meet again on August 30 to discuss the two posts.
Some see the fact that Georgieva was not named to the foreign policy job at the earlier meeting as a sign that there is no further chance that she will get it. However, expectations are that her experience and the respect in which she is held in top EU circles could favour her for another top post in the future Commission.
Plamen Oresharski, the now-outgoing occupant of the Bulgarian prime minister's chair after the National Assembly voted overwhelmingly on July 24 to accept the resignation of the cabinet, reiterated his support for a Georgieva candidacy.
Against the campaigning against Georgieva by the BSP, Oresharski earlier personally endorsed – while saying at the time that he had no mandate to do so – and on July 24 repeated his support for her. (Not that, at the August 30 EU leaders' meeting, the endorsement of an unpopular former prime minister will count for anything.)
The BSP's partner in the ruling axis that soon will leave office, the Movement for Rights and Freedoms, united with Oresharski in endorsing Georgieva. Reports said that it was the MRF that was key in rejecting consideration of a Vigenin candidacy.
MRF leader Lyutvi Mestan, answering reporters' questions as he made his way into the Parliament building on July 24 to vote for the resignation of the cabinet, said that "as hinted by some important foreign factors" there was a certain chance that Bulgaria could get the foreign policy post.
"With regard to the position expressed by prime minister Plamen Oresharski at the European Council that Bulgaria supports the candidacy of Kristalina Georgieva for this post, it was not right for this cabinet to make any kind of decision until there is an answer about who will get the post, "Mestan said.
"If a Bulgarian representative has the chance to be appointed to such a high-ranking position, it is a matter of national responsibility for everyone to do our best for it to happen," he said.
Although the BSP cabinet will hold a final meeting on July 30 before its resignation takes effect, it is expected that the European Commissioner question will pass to the caretaker cabinet.
This caretaker cabinet will be appointed by head of state President Rossen Plevneliev and is expected to have a centre-right orientation, like Georgieva herself.
Some in the BSP have been continuing to try to undermine Georgieva. Some of the statements by BSP MPs have been more laughable than others. MP Tatyana Burudzhieva said that it was ridiculous to imagine that Bulgaria could get the foreign policy chief "when we have a post as high as another Bulgarian being the leader of the Party of European Socialists".
Sergei Stanishev, the outgoing leader of the BSP, heads PES, a party political elected post which has nothing to do with top offices in EU institutions.
Anton Koutev, a Stanishev loyalist in the BSP, said on July 24 that there were insufficient grounds to support Georgieva, "because I do not have enough information about what she has done".
Tsetska Tsacheva, a senior MP for centre-right GERB, said that her party had held no talks with the government on the European Commission nomation, and added that Georgieva (whose portfolio has been humanitarian aid and crisis response, and which has taken her around the world from Haiti to Syria to the Balkans in recent years to lead the deployment of EU resources) had proven to work successfully in European institutions and would be a good nomination.
Polls suggest that as it did in May 2013 parliamentary elections and May 2014 European Parliament elections, GERB will win the most votes in Bulgaria's early national parliamentary elections on October 5 2014, putting it in first place in the opportunity to seek to form a cabinet.
(Photo of Kristalina Georgieva: EC Audiovisual Service)