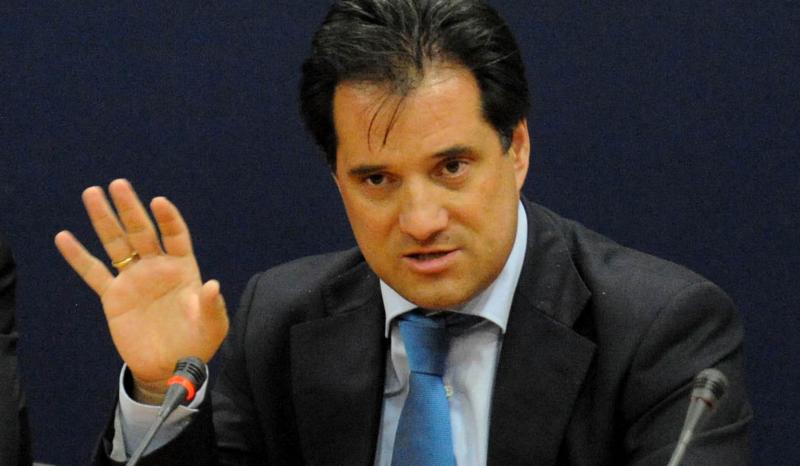 By Spiros Sideris – Athens
The government insists in an alarmism tactic in an effort to close the gap from SYRIZA, that has been shown in recent polls.
However, declarations of a bank run, should the party of Alexis Tsipras wins the elections do not help the economic and stock market climate and cause severe reactions.
Parliamentary representatives of the New Democracy, Adonis Georgiadis, claimed today that if Samaras government "fall", he will withdraw his money from the greek banks and take them abroad.
Addressing SYRIZA MP Giorgos Varemenos, he added that he believes that if SYRIZA nationalises the EFSF, all banks will close.
Varemenos wondered why no action has been taken by the relevant banking authority, regarding the statements of Adonis Georgiadis.
It is recall that similar statements were made ​​last week by the prime minister, Antonis Samaras, who stressed that, if SYRIZA came to power, the next day the greek banks would run out of money.
Yesterday's statements by Adonis Georgiadis, caused the reaction of  SYRIZA MP, Dimitris Papadimoulis, who posted on twitter:
"'They threaten with bank run, with Samaras first and foremost, if they lose the election. "Servants" of the public interest. The "Chair" above the country".
Michelogiannakis: The prosecution authorities must intervene
The intervention of the prosecution authorities for the statements of the parliamentary representative of the ND, Adonis Georgiadis, against SYRIZA, seeks with an open letter, the main opposition MP, Yoannis Michelogiannakis.
"It is inconceivable, the parliamentary spokesman to threaten that if the government falls he will get his money from greek banks so that SYRIZA won't take them. This statement constitutes anti-national and anti-democratic behaviour. It is an act of terrorism towards MPs and exerts psychological violence to the citizens", says the letter from Mr. Michelogiannakis.
DIMAR: The government deliberately creates banking panic
In his question to the Minister of Finance, Gikas Hardouvelis, the MP of DIMAR, Dimitris Anagnostakis was directed against the parliamentary representative of the ND, Adonis Georgiadis, whom he accuses of creating banking panic.
"The danger that can be created by rumors similar to those promoted by the parliamentary representative of the ND, cannot be harnessed, and especially when spoken from government lips are sure to create negative feelings for all depositors as to the safety of their savings", says in his question, D. Anagnostakis.
Going one step further, the MP of DIMAR, asks the Finance Minister if he "considers it to be right for the government to withdraw its trust to the banks".
At the same time, he wonders in what way the Minister of Finance ensures "legally the protection of consumers in cases of banking panic and failure to meet their savings", but also how does he ensure "the banking system by endogenous systemic dangers, as is that of accumulated instability".