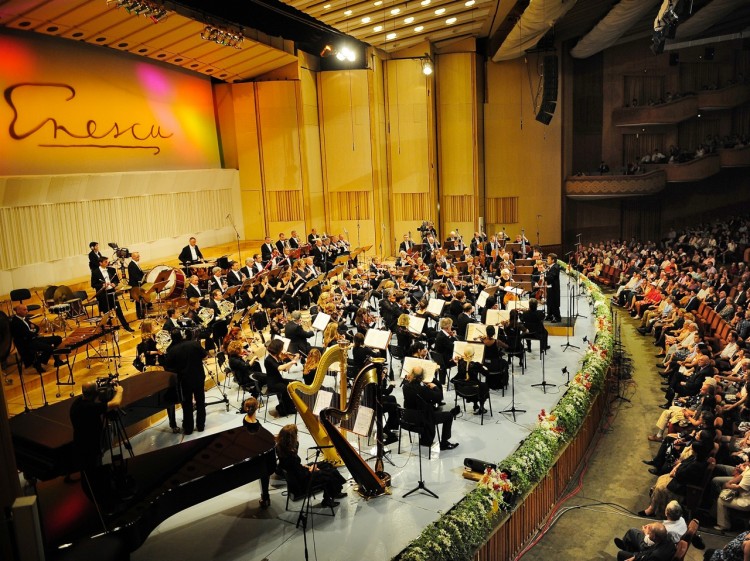 Review by Christos T. Panagopoulos
The prestigious Staatskapelle of Berlin, conducted by Maestro Daniel Barenboim, on Sunday evening, in Bucharest, opened the 21st George Enescu Festival with George Enescu's Romanian Rhapsody No 2 in D Major, Op 11.
The Romanian born pianist Radu Lupu, who was acclaimed on the great international stages the world over, then played Ludwig van Beethoven's Concerto No 4 for Piano and Orchestra in G Major, Op 58 and was rewarded with much applause at the end of his out-of-the-ordinary performance.
The programme of the concert also included Sir Edward Elgar's Symphony No 2 in E Flat Major, Op 63. Maestro Barenboim was called to give some encores. Thus, music lovers who attended the first concert of this festival were fully rewarded by the generosity of the Staatskapelle of Berlin which, under the baton of the man who is its chief conductor for life, performed Jean Sibelius's "Valse triste" and the Polonaise from Pyotr Ilyich Tchaikovsky's "Eugene Onegin".
Earlier in the evening Ioan Holender, artistic director of the festival, hailed this festival being organized at a time of world economic crisis.
Minister of Culture Daniel Barbu, who declared the event open, said that the festival was a treasure of creation, which for 21 editions has been incorporating the performing talent of the Romanian and foreign musicians.
The schedule of the 21st George Enescu International festival includes 78 concerts and performances in Bucharest, 11 in the provinces, 9 as part of the Other Events series, and 42-50 concerts as part of the Festival Square programme.
According to the press office of the festival, about 3,000 foreign musicians will come to Bucharest for the prestigious event mentioned above and almost 1,500 Romanian musicians will be among the participants.
This year's George Enescu Festival has a new communication approach, which should make it possible for it to consolidate its position as a cultural brand for Romania. As a first the festival will get out of the concert halls in order to draw an audience as varied as possible when it comes to education and tastes and also stick to the high level quality of the concerts at the Romanian Athenaeum, at the Big Palace Hall and at the National Opera House.
Thus, this is the first edition in the history of the festival when live broadcasts are given in cinema halls and in public spaces (the historical fortress of Alba Iulia in central Romania and the French Institute in Bucharest).
Concerts are also broadcast on the site www.festivalenescu.ro as a first besides being broadcast on the radio.
They also encouraged the participation of other organizations and people, starting from George Enescu's spirit, as part of a communication concept titled 'Creative Bucharest.
Source: Agerpres