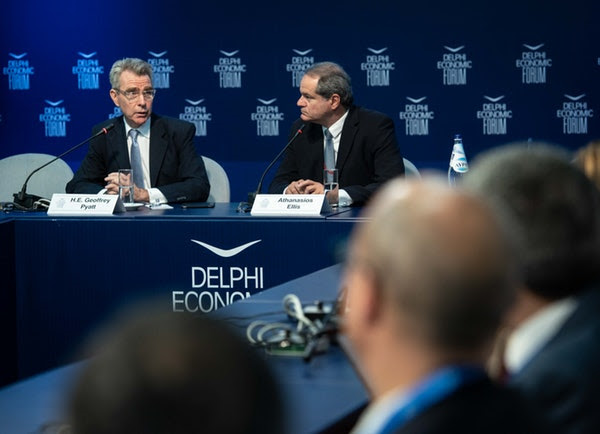 The presence of US Secretary of State Mike Pompeo will seal the next tripartite summit of Greece – Cyprus – Israel, the time and place of which remain to be determined, revealed US Ambassador to Greece Geoffrey Pyatt at the Delphi Economic Forum.
"Greece has returned and is active in foreign policy in the SEE region. The most obvious expression of this was the Prespes Agreement. Further prospects are now opened in order to restore Thessaloniki's historical role to the cosmopolitan crossroads of the Balkans," said the US official, pointing out that "Greece has also returned to the Eastern Mediterranean."
Geoffrey Pyatt, in his speech, stressed that the SEE region should be stripped of Russian natural gas, and at the same time the weight should be given to strengthening relations with Israel and with Egypt.
"Greece has returned but also the United States have returned," the US diplomat said, recalling the enlargement of the new US foreign policy for the Eastern Mediterranean.
Referring to the investigations in the Cypriot Exclusive Economic Zone and the activity of American Exxon Mobil, which, in cooperation with French Total and Hellenic Petroleum, wants to carry out research to the south of Crete, he expressed the hope that soon all the necessary steps could be completed, that now possibly are delaying the process of utilization of wealth-producing resources.
It is noted that the Delphi Economic Forum has emerged as one of the most important conferences in SE Europe and annually brings together distinguished political, academic and business personalities in order to exchange ideas, aiming at creating a sustainable and socially equitable development for Greece and the wider region of SE Europe./ΙΒΝΑ