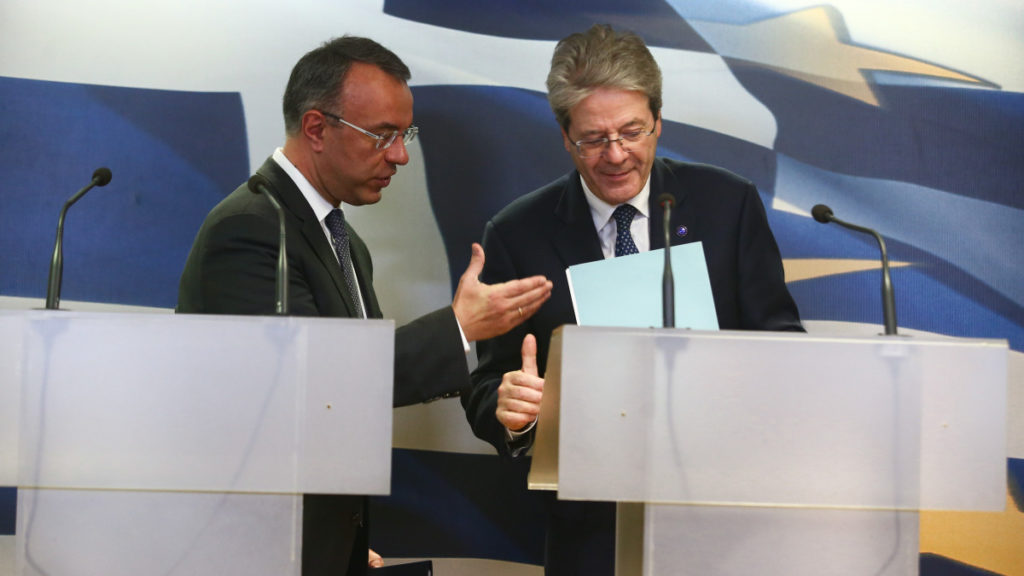 If the Greek economy continues to move in the right direction, and as long as the commitments continue to be met, then a decision to change the use of profits by ANFAs and SMPs could be made in June, EU Commissioner Paolo Gentiloni said after meeting Christos Staikouras at the Ministry of Finance.
He added that "Christos Staikouras has shown us that he keeps his word", clarifying that the Greek Government had requested a change in use of the ANFA and SMP profits in a financially neutral manner, sending a positive signal regarding the decision-making process.
In his public statements, the Minister of Finance laid out the whole set of Greek demands, explaining, "we continue to implement the country's commitments, but we are demanding more fiscal space and will work creatively with our partners to achieve maximum results".
The change of use of bond profits was also discussed, alongside the transfer of surpluses to subsequent years and the promotion of the revision of fiscal targets.
Gentiloni's statements show that the new EU Commissioner is supportive of the Greek positions. Indeed, as he notes, "it is fair to open the debate on primary surpluses and there is room to discuss the objectives again". He also stressed that "the first step in this direction is the successful completion of the fifth evaluation and a good report could open the way for decisions in that matter".
Lagarde's remarks for Greek bonds
At the same time, the Greek economy continues to improve and there is a growing likelihood that the ECB will buy Greek debt under the APS program, stressed the head of Central Bank Christine Lagarde, speaking to the European Parliament's Committee on Economic Affairs.
"If the situation continues to improve, and based on the criteria we have set for the securities markets, I am fairly certain that Greek bonds will also be eligible", said Lagarde.
It is noted that Greek bonds are not currently eligible for purchases by the Central Bank, as they are rated lower than the "investment grade" by the major rating agencies.
The head of ECB stressed that the pace of growth in the eurozone remained moderate, but there were signs of stabilization, restating comments she made in previous days. /ibna