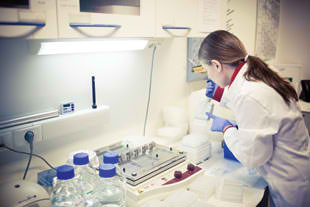 By Natasa Radic – Zagreb
Prestigious «The Scientist» magazine has recognized the quality of the Croatian research and development company Genos putting it on the top of this years' list of the most promising research companies. «The Scientists» writes that there are currently 25 people working in the company, but adding that Genos has a strong relations with the academic community which enables the company to take part in big and important projects.
Genos has been also named the most innovative SME in Croatia, and in November 2012 the company has won, together with the Faculty of Science and Mathematics the 2 million euros worth project that deals with the development of the personalized medical treatments.
Genos is also taking part in the European projects and they have applied for different tenders, receiving and working on six different projects at the moment.
Speaking for the Croatian media, Gordan Lauc, who owns Genos said that the article and study done by The Scientist included interviewing the employees  and that the criteria for the success included the research funds that are there on the company's disposal, equipment and personal attitudes of people working for the company.
-I am very surprised. I know we are good and that all the people who work here are satisfied, but I really did not expect that we will end up to be number one. Being among the best of the world, now, that is something really special, but being the first and the best – that is a quite unique feeling. I think that in Croatia mostly the people in sports feel these kind of feelings while in business world, it is quite an rare occassion – Lauc said.
Genos' owner says that after this huge recognition the only thing that remains is to continue being ambitious and being the best.
-Anything else but being number one will represent failure in the future. Genos has targeted the global market and today more than  80 percent of our profits are coming from abroad – concludes Gordan Lauc.