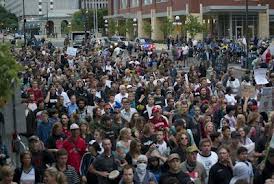 By Natasa Radic – Zagreb
The negotiations between union representatives of public and state agencies and the Government will continue on Monday, because no agreement has been reached so far, even though the long hours of negotiations have been held on Saturday between the Minister of Labour and Pension System Mirando Mrsić and union representatives, nothing has been accomplished so far. If no agreement has been reached, then on 5th of June, all the  public services in Croatia will start the general strike and blockade of the entire national system.
Minister Mrsic, who has the role of government negotiator with the unions, said that the main dispute between the Government and the union representatives is the fact that the government can not agree to fulfil all the demands of the unions, and that would oblige the government to increase the salaries of public employees and government services when the economic situation improves.
After last week's announcement of a general strike for 5th of June Finance Minister Slavko Linic said that customs officers and FINA (Financial Agency) will work, because he will not allow them to entirely lock the system in his ministry.
After Saturday's failed negotiations with the trade unions, Labour Minister Mrsić said he still hopes to reach an agreement and pointed out that in the event of a strike – the state will continue to function.
President of the Croatian unions Vilim Ribic reiterates that the government unions seek precise conditions under which they will receive back the three percent of salary when GDP starts to grow. They also demanded that the government promises to no longer unilaterally reduce wages. Neither of the two the government decided to guarantee. Ribic points out that unions get only promises and those promises can not be trusted. Because of all of that, the unions have announced the general strike on Wednesday, June 5th.