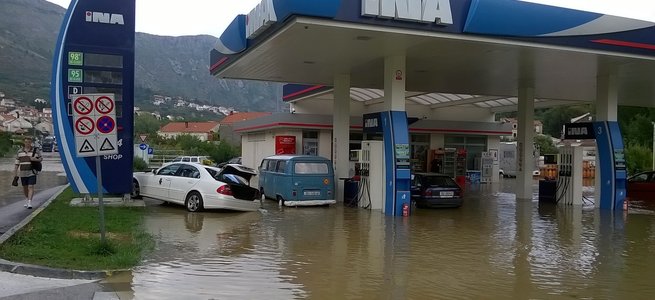 By Marija Avramovic – Zagreb
After the confirmation of the state of emergenvy at 5 am this morning, due to the overflow of the rivers Korana and Kupa, the Crisis Centre of Karlovac at 9 am decided to declare a general state of alert, while the mayor of Karlovac Damir Jelic immediately made ​​a decision to evacuate the population of certain local boards and city districts.
Since last night, a state of emergency is in effect due to flooding, with the undefended parts of the city already flooded, but the general alert was declared primarily due to incoming water wave of Koran, which is expected around noon.
In the field are about a hundred soldiers, 120 firefighters, six boats, 15 members of the Croatian Mountain Rescue Service and forty workers of all city-owned companies with the appropriate support.
Rabbit dams are being raised even in the city district Rakovac, which is the best protected part of the city.
A wave of water even larger than the one in February is expected, when the flood damage was around 29 million kuna (3.8 milion euro) in the Karlovac area and when from a total of 52 outposts, 32 were hit by the floods.
At 9 am, Korana's water level was at 790cm and Kupa's at 801cm, which are until now, the highest reported water levels of these rivers.
Last night, Sibenik area was affected again by powerful thunderstorm, which caused sewer lids to pump out, flooded basements and impeded traffic, since in just one hour more than 50 liters of rain per square meter had fallen.
More than 250 fire intervention, about 30 sunken ships, destroyed public roads, are all the result of bad weather in Vodice, and becasue of the resulting damage Vodice and Tribunj sent a request for the proclamation of a natural disaster to the Sibenik-Knin County.
Besides Macelj, the border crossing with Slovenia, which is closed due to the floods in Slovenia the border crossing Mihanovic Dolis has also been closed to all traffic, the Croatian Automobile Club (HAK) reported.