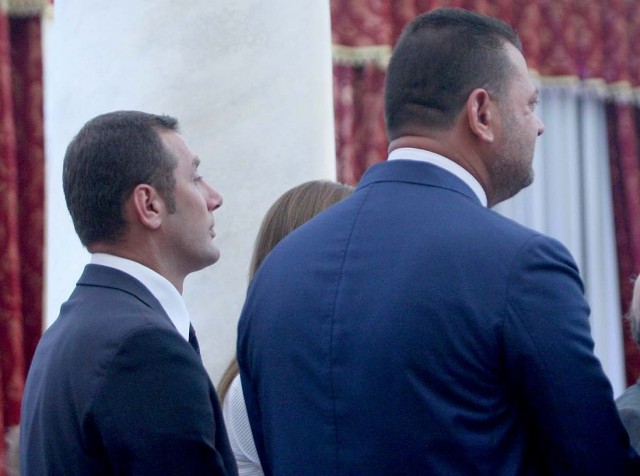 Tirana, March 20, 2015/Independent Balkan News Agency
General Prosecution officially demanded this afternoon from the Parliament of Albania the authorization for the arrest of MPs Tom Doshi and Mark Frroku (photo).
The two MPs are suspected of three criminal offenses, risking up to four years in prison.
The motion that General Attorney, Mr. Adriatik Llalla sends to parliament, explains the arguments against the two MPs.
On 03.03.2005, the Prosecution of Serious Crimes has registered a lawsuit for the offense "Attempted murder of public officials", based on the declarations of Tom Doshi MP. He publicly declared that he held proof, according to which the Speaker of Parliament, Ilir Meta has paid contract killers in order to physically eliminate him along with another MP. On the same day, Judicial Police of the General Directorate of State Police, has referred the materials against Durim Bami, suspected for the execution of this criminal act.
In the framework of the investigations for this criminal case, investigators interrogated people who may have had knowledge about the circumstances of the events, including several senior officials and Albanian MPs.
The inquest has lead prosecutors to think that there's reason to believe that the case which was publicly denounced by Doshi MP and also confirmed by him at the prosecution, has been fabricated. In none of the evidence gathered up until this phase of the inquest, there was no concrete and credible information which indicated an attempt for the murder of Tom Doshi.
On the other hand, based on the proofs and facts gathered during the inquest, the prosecution has concluded that this story has been fabricated by Tom Doshi, Mark Frroku and Durim Bami.
After concluding that this story was fabricated by Tom Doshi and Mark Frroku Prosecution  of Serious Crimes passed this case to the General Prosecution, which has legal powers to investigate MPs.
In the analysis of the inquiry material carried out by the General Prosecution, it was concluded that the two MPs are suspected of having committed the offenses "Perjury", "Intimidation for Perjury, fake interpretation" and "Forswearing in front of the prosecutor". /ibna/