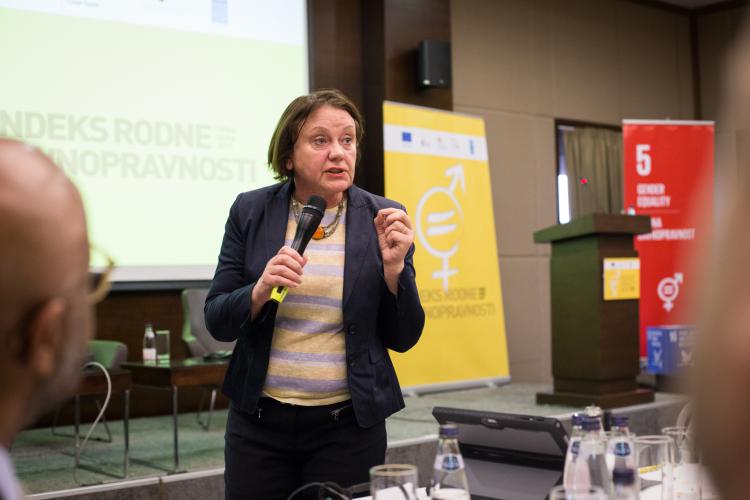 According to the Global Gender Equality Index report, Montenegro achieved a score of 55 out of 100 points. With such an index value, which was calculated for the first time, this country scored lower than the EU average of 67.4.
The lowest gender equality index was measured in the domain of power, while the largest gap in gender equality is in the domain of money and power. The smallest differences are visible in the domains of health and work.
The Index allows the tracking of progress in order to overcome inequalities in six key domains: work, money, knowledge, time, power, and health, as well as two additional dimensions: violence and cross inequalities. The conference was opened by the Deputy Prime Minister, Zoran Pažin, who stressed that the fight for equality is an important part of the emancipation of the Montenegrin society.
"It is clear that our society today needs more understanding and more cooperation based on values that unite us, regardless of all of our differences. First and foremost, it is the strengthening and protection of our universal human rights and freedoms, including the advancement of the position and rights of women in the Montenegrin society", Pažin advised.
According to the Head of Cooperation Section in the Delegation of the European Union to Montenegro, Hermann Spitz, the report helps in advancing policies in the pursuit of greater gender equality.
"It is important to calculate the Index regularly in order to assess the gender gap that needs to be closed. It helps us assess whether economies and societies are prosperous, which would not be possible if one half of the population's talent is not developed and used. The Index can also help us have more reliable and comprehensive data on gender equality for developing better evidence-based policies", Spitz pointed out.
Spitz emphasised that, even though in Montenegro there are more female than male university graduates, women are still concentrated in lower-paid jobs. Women are also significantly more burdened by housework.
"Finally, I would like to emphasise that it is important to change the legislation, but also the culture and attitudes towards the amount of time spent on unpaid domestic work and care, which should be more balanced between women and men", Spitz concluded.
Employed women face a range of discriminatory workplace practices, while motherhood continues to be one of the most common barriers to career advancement. Women are often pushed into low-paid sectors and occupations, despite success in education. The difference in earnings confirms this (women receive 14% -16% less pay than men for the same engagement do).
"As in the EU, the value of the Index for Montenegro indicates that, despite the fact that full equality has not yet been achieved in the health field, the country is on a good track. Also, as in the EU, the biggest shifts need to be made in the domain of power. The detailed analysis that the Index provides should enable targeted policies to be created that will provide an adequate answer to these questions," said Virginia Langbak, the Director of the European Institute for Gender Equality./ibna