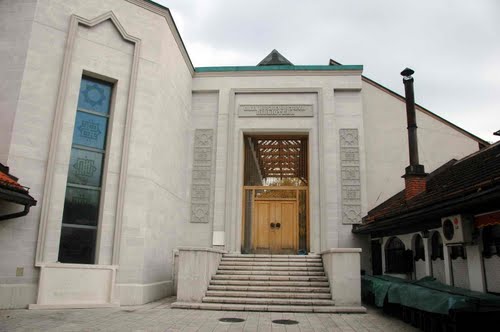 By Medina Malagić – Sarajevo
During the 15th century, while B&H was still under Ottoman rule, Gazi Husrev Beg was the sanjak-bey of Bosnia, or the ruler of Bosnia, and his name today bears the symbol of the greatest benefactor of Sarajevo.
Gazi Husrev-Beg financed the building of the mosque in Sarajevo that bears his name, the Gazi Husrev-Beg mosque, which is considered to epitomize Ottoman architecture and one of the most signifciant Islamic structures in B&H today. In addition to the mosque, the Gazi-Husrev Beg Library was founded in 1537, and over time came to acquire the largest collection of Islamic manuscripts in B&H.
Yesterday, a brand new library was opened on the premises of the Gazi-Husrev Beg mosque. The state of Qatar provided funds for the construction of the new library, and the opening ceremony of the library was replete with representatives from Qatar and many individuals from the B&H cultural, political and social sphere.
At the opening of the ceremony yesterday, Director of Gazi Husrev Beg mosque Mustafa Jahić said that "The library represents the memory of the cultural and civilizational achievements of one nation. Thank you to the state of Qatar and to its friendly people for this great gift".
During the conflict in B&H, the cultural heritage was in a bitter struggle for survival. Vjećnica, the neo-baroque style library was set on fire and thousands of centuries-old books were destroyed. During the war, the books from the Gazi-Husrev Library went into hiding, often in private homes and bank vaults.
The people in B&H who surrounded themselves with books during this period endeavored to protect the country's cultural heritage, relocating and hiding the old books and manuscripts that lay testament to the history of this region. The attempt to destroy the cultural sites, the books of B&H was directly linked to the wider attempts to destroy what many were trying to protect, the obliteration of the multi-ethnic heritage and history, which was in direct contrast to the nationalist rhetoric whose narratives undermined the truth imprinted in the books, manuscripts and other documents.
The Gazi Husrev Beg mosque, the first library built in Sarajevo, contains collections that are mostly in Arabic or Turkish, and the manuscripts have been catalogued and digitized, seeking to ensure its preservation. The Library is open to visitors and researchers, and is significant because it not only offers, in one centralized place, a thorough collection of books, manuscripts and documents of B&H's history, but also serves as a testament to the indelibility of the written word and its unbroken chain with cultural memory.