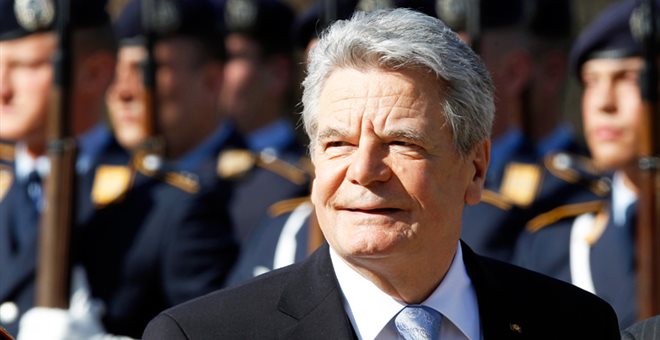 Athens, May 04, 2015/ Independent Balkan News Agency
By Spiros Sideris
Berlin should be open to the Greek demand for war reparations, says the German president. "Shame on us for knowing so little for so long" (for the Greek slaughters).
His support to the requests of Athens for compensation from the Nazi occupation of Greece during the Second World War, despite the fact that the German government has repeatedly rejected them, expressed the President of Germany Joachim Gauck.
The German president, who has little real power in the country, but is known for his tendency to be unconventional, said in an interview to be published today in the Sueddeutsche Zeitung, that Germany should consider its historical responsibility towards Greece.
"We are not only people who live today, but the descendants of those who left behind the disaster in Europe during the Second World War – in Greece in particular, where we should be ashamed for knowing so little all this time", said Gauck according to Reuters.
"It's the right thing for a country that is aware of its history, like ours, to consider what possibilities there may be for reparations".
The Greek request for reparations of EUR 278.2 billion for the German occupation has fallen on deaf ears, but there are some lawyers who argue that the country might be right. Last month, Economy Minister and Vice Chancellor Sigmar Gabriel, called it the claim "stupid", saying that Greece wants to find a way to escape from their partners, since they determine the conditions for further financial support to help Greece avoid bankruptcy.
Other German officials had argued that Germany has already paid its obligations.
Gauck had recently upset the waters once more, when he described as "genocide" the massacre of 1.5 Armenians by the Turks 100 years ago, since "genocide" is a term that Berlin has been rejecting for a long time now.
A few days before reaching 70 years from the end of the Second World War on May 8, the German Chancellor Angela Merkel sent a message against historical oblivion, stressing, referring to the Nazi past of Germany, that in history 'there is no dividing line'.
In a videotaped interview, according to Deutsche Welle, she said: "us Germans, we have in this matter a special responsibility to treat with care, sensitivity and awareness what we caused during the period of National Socialism". As is mentioned in the article, Angela Merkel made this statement taking into account the discussions around the Greek demands for payment of war reparations from Germany.
"Of course it is also important that, for example, we have not only the discussion with Greece, but also with many other countries", she said, stressing that it will be for her "a very important moment" when she goes on May 10 to Moscow, where she will lay "together with the Russian President a wreath at the Tomb of the Unknown Soldier, in memory of the millions of  dead", for which Germany is responsible as part of the Second World War.