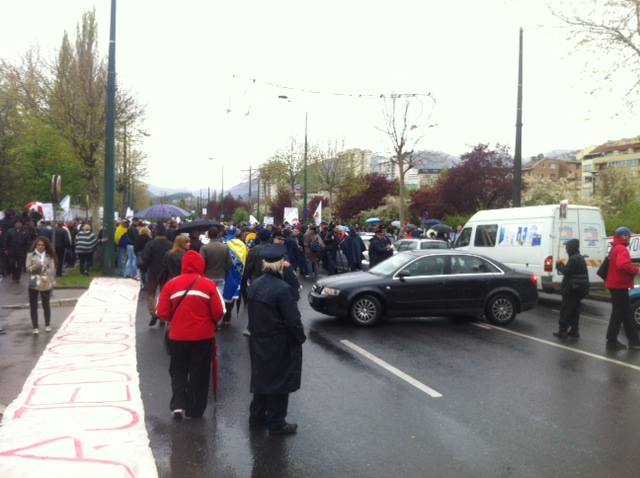 By Medina Malagic – Sarajevo
The Plenum of the citizens of Sarajevo announced in a statement yesterday that today a mass gathering of all the plenums from cities throughout the FB&H would take place in Sarajevo today.
Citizens started to gather in front of the FB&H government today, and currently there are several hundred citizens in front of the building. Citizens from various parts of the FB&H continue to arrive to Sarajevo, despite the rainy and cold weather today in the capital city of B&H.
Their aim is to hold a symbolic Plenum and present joint demands to the FB&H government. The first demand is the resignation of the FB&H government, and also includes a full review of the privatization process of prosecution of all those responsible for criminal activities revolving around privatization, as well as stopping the process of privatization.
Today, citizens will present together these demands that they have already agreed upon, and the demands from each Plenum will be presented as well. The demands set forth by individual Plenums in the FB&H have been either the same or almost identical, and while every community has its own specific set of problems, the joint demands serve to reveal and highlight the general, overarching problems in B&H society that is negatively impacting the citizens of B&H. They are asking for a systematic and radical change by attacking the root of the problems in this country.
Protests in cities throughout the FB&H have also been taking place on a daily basis, in tandem with the Plenums. However, local governments of the FB&H and the FB&H government, with headquarters in Sarajevo, has either fully ignored the demands or is only partially implementing the demands set forth.
''Citizens throughout the FB&H, acting through the Plenums in their cities, in the last two months sent dozens of demands to their local governments pertaining to solving various problems. Unfortunately, institutions of local governments have turned a deaf ear to the demands of disenfranchised citizens, who have been protesting in their communities since the beginning of February and have tried to draw attention to the urgent need to address the catastrophic social situation'', said in a statement of the Plenum of the citizens of Sarajevo.
The traffic has also been blocked in front of the FB&H government building, and is expected to remain blocked until 21:00. People are carrying banners that read 'Our Unity, Your Destruction' and 'Freedom is my Nation'.