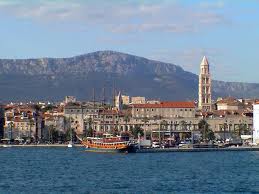 By Natasa Radic – Split
With Croatian tourism indicators pointing to a mixed season, one destination which is definitely on the rise is the Dalmatian capital of Split, which is quickly establishing itself as one of the hottest destinations on the Adriatic coast, and slowly transforming itself as a hopping point to more glamorous destinations into a quality tourist spot in its own right, according to some encouraging tourism statistics recently released.
Once known as a transit spot and famously called Gateway to the Islands, Split is becoming one of the trendiest cities in Europe to visit, and people are staying much longer in the city they once used to bypass. Twice as long, according to this report, with the average stay now 3.2 days compared to 1.6 two years ago. More interestingly the average stay in a major European city is 2.2 days, an encouraging trend for Split tourism indeed.
So how many tourist beds are there in Split? About 10,000 or not enough, according to Split Tourist Board director Vedran Matosic, talking about the 23% increase in tourists for July.
"This came as a big surprise. We were forecasting growth of 7%, 10% tops," said city tourism board director, Vedran Matosic. "Now the problem is where to put all these tourists.
We don't have enough beds." The city can sleep 10,000, of which 2,100 in hotels, almost 1,000 in hostels and the rest in bed and breakfasts or other private accommodations. Hostels and guesthouses are expanding to meet demand, but the city needs at least one or two more hotels to handle the influx, Matosic added. A new series of electronic music festivals has been the biggest draw, but beefed-up promotion of historical monuments such as the massive palace built by Roman emperor Diocletian at the turn of the fourth century AD, now a UNESCO World Heritage Site, also played a part.
"Almost 40,000 young Germans arrived this year, followed numerically by young Scandinavians, Americans and Britons," Matosic said. Tourism board forecasters said the trend is set to continue, with possible long-term positive consequences for the local economy. In the short term, an extra 5-7,000 beds will be in demand in July and August 2014."
The tourism numbers mirror the increased activity of Split airport, which last week handled its millionth passenger for the season, a bumper year which has seen more than 80 destinations served by 43 airlines. Split airport recently announced expansion plans for 2014.