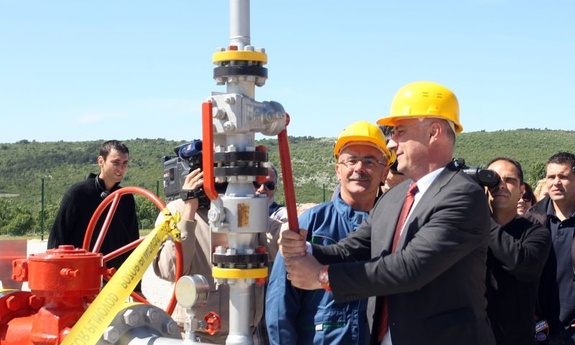 By Natasa Radic – Zagreb
Economy Minister Ivan Vrdoljak opened in Dugopolje, outside Split, the fourth part of the gas pipeline system of Lika and Dalmatia – pipeline from Benkovac to Dugopolje. State company Plinacro has invested 37 million euros for the pipeline and this section opened in May.
Construction began in July 2011 and ended in February this year, and the necessary permits were issued in late April. It is a very complex project that will enable gasification of Split-Dalmatia, Zadar and Sibenik-Knin County that have not used extensively the gas as the energy resource.
Upon completion of this project, Plinacro has achieved almost 95 percent of the territorial coverage of the Croatian modern gas transport pipeline system. Continued development is planned to build on the basis of Ionian-Adriatic gas pipeline, which would connect the Croatian gas transmission system  to TAP (Trans Adriatic Pipeline). Plinacro leadership says that then the conditions will be met for the supply of Caspian gas to the Croatian market and at the same time another goal will be achieved – a complete coverage of the Croatian gas pipeline system.
Economy Minister Ivan Vrdoljak says that Croatia needs to have the modern gas infrastructure and that now with this big project the country has become one of the leaders in the European Union.
Vrdoljak said that this is a long-term investment that provides competitive domestic economy and provides citizens with a cheaper supply of the most environmentally friendly energy sources.
It is expected that the Shah Deniz II consortium, led by British oil company BP, which will produce gas from the Shah Deniz II gas field in Azerbeijan will soon decide whether to sell gas to the pipeline Nabuco or to TAP. In light of these developments, the Croatian pipeline system could become a transit loop to exploit the central Adriatic and the new supply of gas from the Caspian basin to the European market.