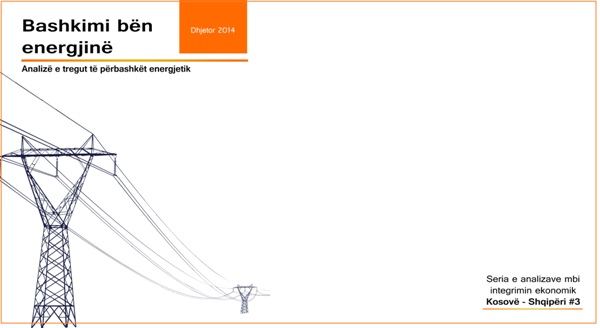 Pristina, December 23, 2014/Independent Balkan News Agency
By Elton Tota
An analysis conducted by Institute for Advanced Studies (GAP) recommends Kosovo and Albania to intensify cooperation between them in the domain of energy.
According to GAP, their systems are complementary for each other and cooperation between them can bring more improvements in efficiency, optimism and more savings in the use of energy sources.
Under the name "Unity makes energy", GAP recalls that the joint declaration for cooperation and strategic partnership between governments of Kosovo and Albania, also determines energy issues.
But, the report says, "this is not the first document which expresses the interest of both countries for cooperation between them and the possibility of creating a joint energy market. On one hand, the government of Albania has approved a National Energy Strategy 2013-2022, which expresses the interest for the creation of a joint market; on the other hand, something like that is also done by the draft Energy Strategy of the Republic of Kosovo 2013-2022, which has been approved by the government, but not by parliament".
But, besides opportunities to benefit from energy cooperation between the two countries, there's also a risk of a narrow interpretation of the idea of the exploitation of comparable advantages of both countries. This risk also comes from the mentality that exists, according to which, Kosovo must base its energy capacities in lignite as these capacities would complement Albania's water capacities.
Although the benefits from the energy cooperation of both countries are incontestable, the analysis recommends for Kosovo to be more careful in building new capacities based on coal.
"Besides the fact that coal of Kosovo is compatible with Albania's water resources, Kosovo must take into account the negative impacts of coal, such as the pollution of environment, public health and the displacement of population after the opening of the coal mines", further reads the analysis.
Bearing in mind the flexibility of Albania's power plants and the creation of a bigger energy market from the unification of two markets, GAP believes that Kosovo must develop new capacities of renewable energy.
Unpredictability and availability of renewable sources can be easily balanced with the flexibility of Albania's water capacities.
Based on these conclusions, GAP Institute recommends the intensification of energy cooperation between Kosovo and Albania with the assistance of the governments of both countries.
"This cooperation must result in: The creation of a joint energy market; to put in place strategic plans for energy cooperation between the two countries; fighting obstacles for energy cooperation and corruption and the signatory of the cross border water package for energy use. We also recommend the assessment of external negative impacts of the lignite based capacities and the limitation of their use", reads the analysis. /ibna/