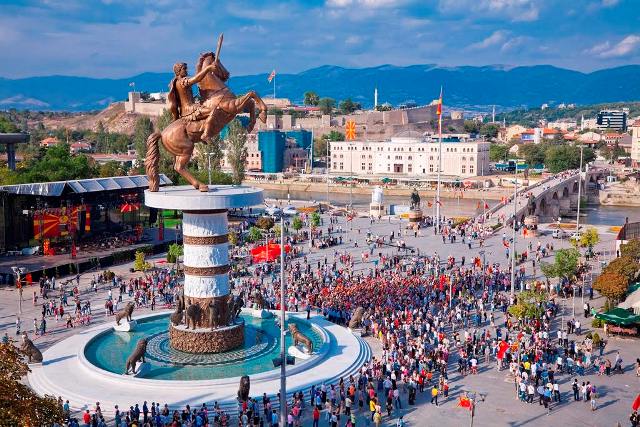 Skopje, 19 September 2016/Independent Balkan News Agency
By Naser Pajaziti
Nationalist tones have grown in the political arena in FYROM ahead of the election campaign for the 11 December polls.
The debate has been sparked by the recent declarations of the leader of the largest opposition party, SDSM (Macedonian Social Democratic Union), Zoran Zaev in relation to the broader use of the Albanian language in the country.
"In the commune of Prilep, whoever wants to learn Albania, they can put a request in writing, although the necessary percentage to teach in Albanian is not met", Zaev said.
But, the largest party in power, VMRO-DPMNE says that these declarations are dangerous and that it doesn't accept two languages being spoken in all the territory of FYROM.
"VMRO-DPMNE is against bilingualism in the entire territory of the Republic of Macedonia. VMRO-DPMNE doesn't accept equality of the Albanian language with the Macedonian language in all of Macedonia", said Ilija Dimovski of VMRO-DPMNE.
Civil Option for Macedonia Party, close to VMRO-DPMNE has distributed materials where it calls for engagement due to the threat of scenarios for the division of FYROM and its federalization. For this, this party has accused opposition party SDSM.
Mayor of Struga and head of the opposition party Movement for Reforms-PDSH, Ziadin Sela has also been involved in this debate. Through a post on Facebook, he writes among others that "if VMRO-DPMNE doesn't want Albanian to be equal to Macedonian in all of Macedonia, then Macedonia should be divided into two federations, Albanian and Slav".
BDI says that it praises the declaration issued by the leader of SDSM, Zoran Zaev. Deputy Speaker of Parliament, Rafis Aliti said that such declaration must be praised, but according to him, the issue of the use of the Albanian language must be adjusted based on the Constitution and the Ohrid Agreement.
Experts of the political developments say that when elections are near, parties should be mobilized on an ethnic point of view, in order to gain more votes.
"This is not something new. Every time elections are near, Macedonian parties use the card of extreme nationalism in order to gain as many votes as possible. Albanian parties use nationalism in illegality, when there are no Macedonians, no cameras. They start to talk about the unification of Albanians, on Albanian votes, Albanian rights and other topics", says analyst Alajdin Demiri.
The Albanian language in FYROM has been regulated through article 7 of the Constitution, which states that the use of this language is enabled in communes where Albanians make up for more than 20%. /balkaneu.com/