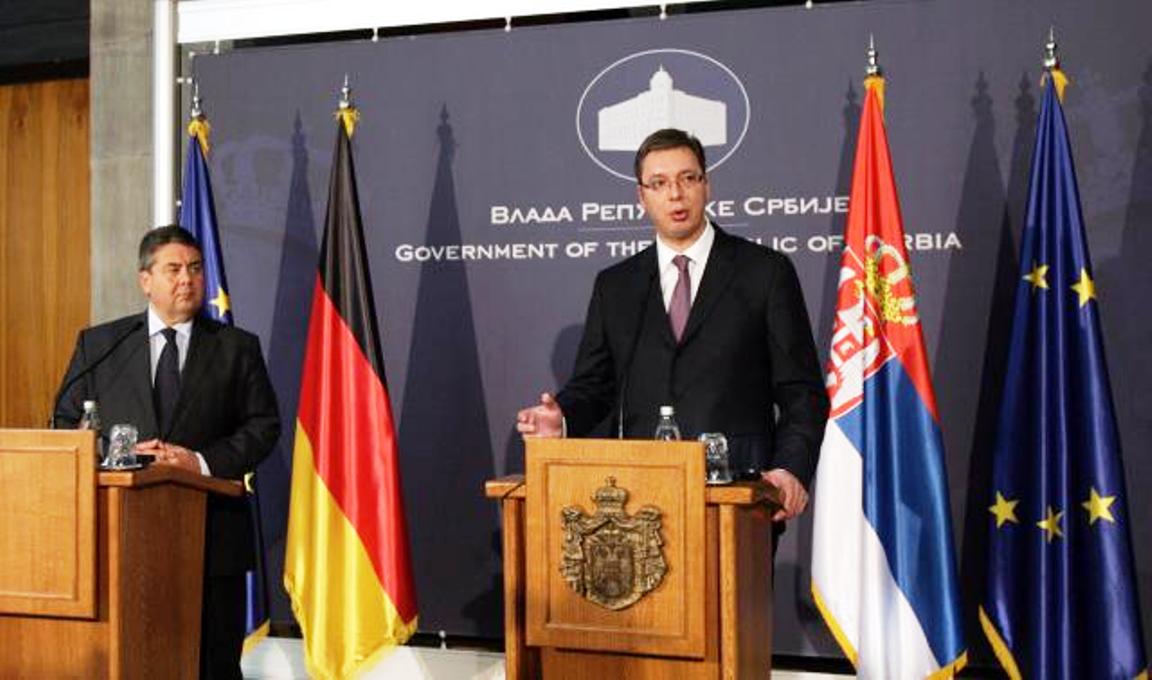 Sigmar Gabriel, German foreign minister, congratulated Serbian Prime Minister Aleksandar Vucic his recent win at the presidential elections. Gabriel, who visited Serbia on Wednesday, praised Vucic for his pro-European course and reforms, but stressed that he came in Belgrade first of all because of "awakening of the demons" in some of the countries in the region.
At the press conference with Vucic, Gabriel said that European Union was worried over these "demons" obviously alluding to nationalistic tensions in the Western Balkans.
"This is the reason why I am here", Gabriel explained adding that Serbia invests significant efforts in maintaining the stability in the region.
Despite all the demands of the EU, Serbia remained on the course of European integration, thanking to the performances of Vucic's government which has not been presenting European standards as imposed, but rather as standards in the interest of the country and its citizens, German FM stressed.
"This is of great importance and this is good for the citizens of Serbia", Gabriel underlined.
He congratulated Vucic for "clear victory in presidential elections" adding that his win bears especial responsibility – to continue to lead the country in the same direction.
"Naturally, there are a lot of the remaining tasks in this path, in the rule of law domain, credible judiciary, in the fight against corruption … in order to create even better ambient for the investors, and in order the citizens to start feeling the welfare", Gabriel said.
After the election success, Vucic must continue with "painful reforms", German minister said.
At the same time, Gabriel singled out the normalization process with Pristina as "unavoidable precondition for Serbian accession to the EU". "This must be understood", he said recalling previous cases in which some countries have become EU members without resolving similar problems.
"From that reason is the normalization of the relations so important", Gabriel said. His next stop in the visit to the region is in Pristina.
When asked to comment the ongoing protests in Serbia, Gabriel said that they were "possible and permitted". What he sees the most important is that protest should remain peaceful./ΙΒΝΑ