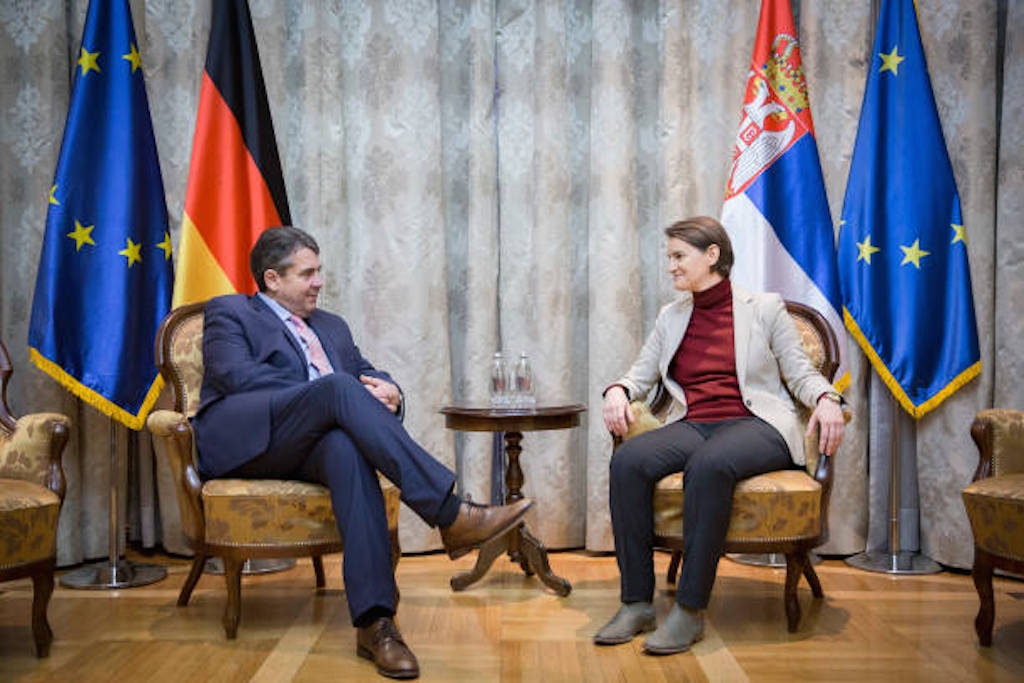 German Foreign minister Sigmar Gabriel did not deliver any kind of document on Kosovo, Serbian prime minister Ana Brnabic said today. The possible decision on signing a legally binding agreement about Kosovo is "exclusively" on Belgrade and Pristina, Brnabic added.
Earlier this week Gabriel visited Belgrade and Pristina. In Belgrade, the German diplomat had meetings with Brnabic and president Aleksandar Vucic.
"Gabriel did not deliver any document. We have discussed the dialogue of Belgrade and Pristina and the normalisation of their relations. Serbia has demonstrated its responsibility by organising the internal dialogue on Kosovo", premier added.
Brnabic alluded on the process initiated by Vucic in 2017.
The "internal dialogue", however, is controversial. While EU officials praise Vucic for his alleged efforts in promoting the peace and stability in the region, the Serbian opposition and independent Media stress that the president creates polarisation than dialogue within the Serbian society.
According to Brnabic, Gabriel was interested in "what the Serbian government's planning is" considering the legally binding document. "There is no need for anybody to deliver any kind of document. He asked us what we are planning" (regarding the agreement), she explained.
Serbian PM claimed that her country has "implemented almost everything" stipulated in the 2013 Brussels Agreement between Belgrade and Pristina. On the other hand, Pristina "has not made one single step", Brnabic went on.
When asked whether Gabriel has demanded from Serbia to recognise Kosovo's independence, she said that the Media "have wrongly interpreted" what he said.
"He was saying that Serbia should 'accept' (Kosovo's) independence", Brnabic concluded.
 "Strange visit"
 During his visit to Belgrade and Pristina, Sigmar Gabriel has been combining the words "recognition" and "accepting the reality", Deutsche Welle"s (DW) journalist Nemanja Rujevic has noticed in an interview today. "It remained unclear whether he has told Serbia that it must recognise Kosovo; that would be a change in the German positions", Rujevic told N1 television.
"I think that he was talking, in a more direct manner, about what we, here, colloquially call 'accepting the reality'", Rujevic said, adding that Gabriel was not explicit.
"President Vucic also talks about 'reality', but when he says that word, he does not say that the independent Kosovo is a reality", Rujevic said.
DW's journalist has said that Gabriel's visit to the Balkans amid a "battle" over the formation of a new German government was a "strange situation"…/IBNA
Photo: Florian Gaertner / Photothek via Getty Images