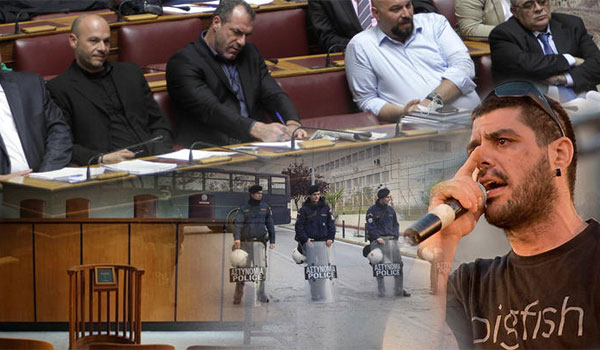 Athens, September 29, 2015/Independent Balkan News Agency
By Spiros Sideris
Today is expected to testify at the trial for the action of the Golden Dawn, in the courtroom of the Korydallos prison, the father of the 34-year old musician Pavlos Fyssas, as the first witness in the list of 131 witnesses of the prosecution, in the big case of the criminal organisation.
Two years after the brutal murder of his child, Panagiotis Fyssas, laborer in "Perama Zone", is expected to stand before the judges of the three-member Appeals Court for Felonies, to say "what must be heard" as he said in a statement a few days ago. He will talk about his child, for his worker son, both members of the Metal Syndicate of Piraeus, about what was happening "under the belt with the Golden Dawn", his musician son, his "antifascist" son who died in "plain sight", stabbed three times by Roupakias. A murder that according to the indictment and the competent prosecutor Isidoros Dogiakos was "organised" and not the result of momentary conflict and clash. There was a central command – Dogiakos assets – to "kill him wherever they find him".
The testimony of Panagiotis Fyssas, if it starts today as planned, is expected to take place in the absence of most of the accused as "heads" of the criminal organisation and under the weight of the latest statements of the leader of the Golden Dawn Nikos Michaloliakos on taking "political responsibility for the murder in Keratsini".
Since the trial began, Michaloliakos did not want to attend in any of the meetings, the same as his wife Eleni Zaroulia, Christos Pappas and the majority of former and current MPs of the Golden Dawn, with the exception to the rule being those MPs who became Independent, such as Stathis Boukouras, Polyviou Zisimopoulou and Artemis Matthaiopoulos at some sessions, but also with Michalis Arvanitis at one sitting.
Fyssas's testimony will be under the weight of the decision of June 29, when the Tripartite Felonies Appeals Court ruled that the prosecution is not entitled to be present when the leadership of the party and those of the defendants who are tried only on charges of criminal organization.
The court's decision has great legal importance, since it practically deprive the victims of attacks to claim civil damages from all defendants while effectively prohibits the Prosecution's Office to examine the members of the leadership group, both for the murder of Fyssas and for the attacks against PAME and the Egyptian fishermen.